When to Go?
The dry season between
May and October
is the best time to cruise Tahiti, Bora Bora, and French Polynesia. While there is no shortage of blue skies and sunshine throughout the year; there are more festivals, less humidity, and greater availability of cruise dates during these times.
For those looking for fewer crowds, the shoulder months of May, September, and October have pleasant weather and plenty to see and do.
Tahiti, Bora Bora, and French Polynesia Weather
Bora Bora
,
Tahiti
, and
French Polynesia
weather patterns are characterized by wet and dry seasons.
The
dry season lasts from May to October while the wet season occurs from November through April
. These seasons bring with them contrasting temperatures and precipitation, which may make one season more appealing than another depending on your vacation goals. Given their proximity, they experience near-identical temperatures year-round averaging at around 28C (82F).
A 50-minute flight with Air Tahiti or a three to four-hour boat ride from Tahiti will get you to Bora Bora, which is located 143 miles northwest of the island. Bora Bora and Tahiti are both located in French Polynesia's
Society Islands
, which are composed of volcanic islands.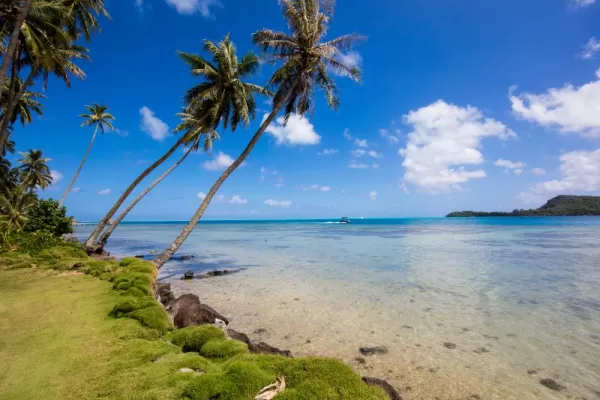 Tahiti's main city,
Papeete
, is the capital of the region. Flights in and out of the region pass through the island, and cruises begin and end here. Other French Polynesia islands include
Moorea
,
Taha'a
, and Huahine. ​
Bora Bora
is one of the most romantic spots in French Polynesia known for its pearls, mountains, overwater bungalows, lagoons, and dolphins.
May (Shoulder Season)
May heralds the start of the Tahitian winter. While Tahiti, Bora Bora, and French Polynesia are gorgeous year-round, May is when the island's weather changes from hot and humid to a cool, dry heat that makes the islands even more inviting! While that might sound like a turn-off to some travelers, it's actually quite nice—you'll experience warm days and cooler nights, which means you can enjoy all of the islands' outdoor activities without having to worry about too much heat. The islands also become significantly drier in May, with rain comparatively little until mid-October. This season in Tahiti will save you money on hotels and flights while avoiding crowds.
June - August (High Season)
June is the best time of year to sail in Tahiti—and that's the consensus of not only the locals but of many travelers. In the Southern Hemisphere, June marks the start of winter, but in Tahiti, it's a bit on the cool side. The average temperature during June is a mild 25°C. The heavy rains are long gone by June, leaving behind nothing but clear skies and sunny days for your whole stay. But perhaps even more importantly, humidity is lower, alleviated by increased trade winds coming in from the east. The seemingly endless dry and clear days coincide with the start of the busier tourist season. Nights are a mild 21°C (70°F), making it easier to sleep since it's not so hot and sticky.
July in Tahiti and Bora Bora finds the high season in full swing with the Heiva festival, great weather, and cruises kicking into gear around the islands. It's also the
best time for
snorkeling at remote coves, kayaking, stand-up paddleboarding, and helicopter rides.
French Polynesia cruises
offer these activities when touring the islands of
Papeete
, Bora Bora,
Moorea
,
Taha'a
, and Huahine. ​The dry season makes the pristine lagoons of Huahine excellent for snorkeling, swimming, or scuba diving during a
Tahiti cruise
.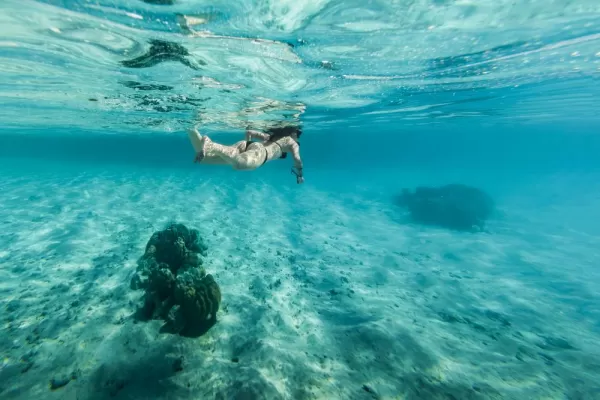 August is one of the best months of the dry season when the
weather and the conditions in
French Polynesia
are at their
peak
, but it is also the most popular, with hotels booked months in advance due to the influx of both foreign visitors and residents to the smaller islands during this period. It's best to reserve far in advance if you're considering sailing in August. If you want lesser crowds, consider delaying your trip until September.
September and October (Shoulder Season)
The best time to see whales in French Polynesia is from mid-August until the end of October
. This is when humpbacks migrate from
Antarctica
to mate and give birth. Average day and night temperatures start to rise, but humidity levels are still low enough for you to enjoy being outside for longer periods. Come to Tahiti in October to see the whales, swim with them, and enjoy clear skies, sunny weather, and fewer people on holiday. Although it's the wettest month of the season, it still has only half the rainfall in November.
​While
hiking and surfing in Tahiti are best between June and September
, keep in mind that areas near the mountains are frequently cold and wet throughout the year, and July and August can be unexpectedly windy.
November to April (Low Season)
Bora Bora, Tahiti, and French Polynesia weather is hot, humid, and exotic. And while that may sound like the perfect paradise to some, it is not to everyone. If you're looking for the most comfortable visit possible, you'll want to avoid the wet season of November through April. Although the rates drop considerably during these months, you can expect rain most days. You'll also be at risk for cyclones, so it's important to stay alert. Even if you can tolerate a little bad weather, it's hard to imagine a luxury vacation weighed down by humidity and frequent rainstorms. Flights can also be canceled due to bad weather or lack of passengers.
Tahiti
, Bora Bora, and French Polynesia are sun lovers' paradise that welcomes travelers from all around the world year-round. If your schedule is flexible and you're willing to travel during the dry season of
May through October
, you'll find your Tahitian vacation significantly more enjoyable.
Get the ball rolling for a
Paul Gauguin Cruise
with Adventure Life to Tahiti and Bora Bora, including the surrounding French Polynesia island chains like the Cook Islands,
contact a member of our team
through our toll-free number or this site.