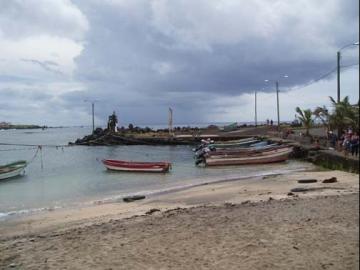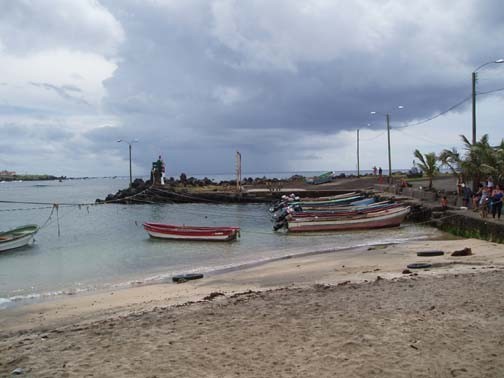 Today was our Easter Island free day. There was a great contrast between the way we felt on our first day on the island and now. We were now in the groove of island life and could easily occupy ourselves. We woke up at around 8 o'clock, as usual. At breakfast we saw Bill and Romaine, our future selves, who immediately said hello to us by name. We had a nice chat with them. A young boy slipped on the wet patio and broke his breakfast plate. Everyone stopped eating to look, and one person said "ooh la la!" We ate our pastries and fruit and then went back to the room to put on sunscreen.
We took a cab into town and went to the artisan market that we had visited on our first day. Now we had more of an idea of what the island had to offer and how much things cost, so we felt we could do some informed gift shopping. We bought some magnets, small moai replicas made of volcanic rock, and a replica Rongo Rongo tablet. We really liked the wooden kava kava carvings, but they were just too expensive. Next we went to the post office to repay our 100 peso debt. While in line, we saw the clerk stamp a guy's passport with three special Rapa Nui stamps for $1. We decided to each do this, and the passport stamps were very cool. We also bought two postage stamps for Craig's collection.
We decided to walk back to the hotel rather than taking another cab. We took the coastal trail back. We passed some moai, the Chilean Armada headquarters, a sign post with mileage to major cities, etc. Next we reached Hanga Piko, a small harbor where fishing boats go out. We saw some men getting into kayaks with outriggers. This is also the site of Ahu Riata, which holds a single moai. When we got back to the road, we went to a gas station convenience store. Craig got some Escudo to bring back to the room. We also bought some Triton cookies (like Oreos) and I bought a Coke. We walked along the road back to the hotel. It was quite hot and the Coke was refreshing. As we neared the hotel, a little girl rode by on a bike. She was hot and tired, and she stopped when she reached us. She pointed to my Coke and said "Coca-Cola?" I gave it to her and she took a long sip. I asked if I could get her picture, and she nodded. As I adjusted my camera she saw the opportunity for another long sip, which she enjoyed. After I was done with the photos, she finished drinking and handed the bottle back to me. I told her she could keep it. She smiled and pedaled off, waving and saying "chao". What a perfect Coke commercial this would have been! She was adorable, and we felt really happy to be able to share with her.
We soon reached the hotel. We went to lunch and ran into Romaine and Bill. We took their picture and chatted for a few minutes (they were eating inside and we were eating outside). We told them about the passport stamps at the post office and they seemed very interested. They thanked us for telling them about it. We went back to our table and ordered. I got the spaghetti bolognese again. It was a much bigger portion than last night's dinner portion, and this time it came with a roll and grated parmesan cheese. Craig got tuna in Spanish sauce. We shared a side of fries. After lunch we rested in the room for a while. We propped open the front door and opened the back slider, so the room was now more of a wind tunnel than a sweat lodge.
Since it was so close by, we decided to walk back to Ana Kai Tangata cave. There were a few other people there, but eventually they left and we were alone. We looked at the rock paintings and took a few pictures. We continued down the trail a bit and found an even bigger cave. There was really no safe way to enter it, so we admired it from above. We walked back to the room and changed into our bathing suits. We were very hot, and had considered going into the pool. But on our walk to Ana Kai Tangata, we had seen a saltwater pool built into the rocks on the shore. We opted for the latter. The rectangular pool had been built with volcanic rocks, and it had a retaining wall which overlooked a very choppy area of water which would fill with water, thrash around like a washing machine, and then empty out. The water level would drop by about 10 feet. It was an amazing sight. It was like watching a mini flash flood. We saw a crab ride the surf and end up on the walls of the pool. The pool was shallow and very calm. It was a much better place to swim than the rougher seas on the rocky coastline. Families were there, teaching young kids to swim, etc. There was also another couple who was engaging in the Chilean art of public displays of affection. After our swim, we headed back to the room to shower. Tonight was Terry's band's performance at Te Moana, and we wanted to get there early to make sure we had time to eat and could get a table, etc. As our cab arrived, Bill and Romaine pulled up with their driver, and we all waved to one another. The cab dropped us at Te Moana. As we were pretty early, we went to an internet place a couple of doors down and sent an email home (20 minutes cost 1100 pesos).
Then we went to Te Moana. It was empty. Terry had said that the band sets up near the bar, so we got a table in that vicinity. Craig drank Escudo beer and I had pineapple rum, remembering that I wasn't a fan of the pisco sours at this restaurant. We each ordered steak with sauteed potatoes, which came with barbecue and pepper sauces on the side. It was very good, and we ate slowly. Terry showed up with his 6 year old daughter Nua Isabela for sound check. He laughed that we were there so early, but we could tell he was happy to see us. He said goodbye and that he'd see us later. We ordered guava ice cream for dessert. They were playing CD's, and one song that came on was Sting's "They Dance Alone", a song about the torture and repression in Chile under Pinochet. It seemed poignant to hear it here.
The place remained pretty empty until the next plane arrived, but by 11 o'clock it was hopping with both locals and newly-arrived tourists. The pace of Te Moana is such that even though we were there for hours, it took about that long to get done with the meal. Terry and the rest of the band (drummer and another guitarist) arrived. We met Terry's wife Kim, an American. Their four children were at the baby-sitter's tonight, and you could tell that they were enjoying their night out. Terry played guitar and sang, and it was a mixture of traditional Rapa Nui music, blues, etc. Terry's wife sat with a group of veterinarians who were on the island to spay and neuter cats. They chatted enthusiastically about the work they had been doing on the island, and even got called to an animal emergency during the course of Terry's set. We had a very good time, and were happy that Terry had told us about the gig. Terry offered us a ride home after the show. We sat in the front seat of his pickup truck, while a bunch of his friends piled into the back. He dropped us at the hotel and told us that we have a friend on Easter Island. His friends waved and called out to us from the back of the truck. We must have made quite a stir arriving at the hotel with a truckload of locals at 12:30, but we were really starting to feel at home here.