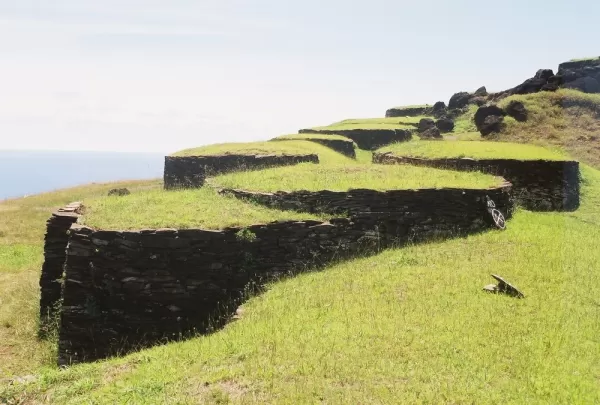 I had no idea what to expect during my time on Easter Island but a few pleasant surprises told me that this was going to be a good visit. The first surprise was that I got upgraded to business class for the 5-hour flight to Easter Island. The second surprise was that, unknown to me when I arranged this part of my trip to Easter Island, I would be on the island during the Tapati (a Local Festival – more on this later). After I landed at the airfield built by the U.S. military in 1950s – the U.S. had a small base on Easter Island until the 1960s – I met my group (an American lady from California and a Canadian).
But the other surprise was that when I got off the plane I was met by a very attractive lady, Josefina Mulloy, who was going to be our guide for the next four days.
Josefina is an American (married to a local) who grew up on the West Coast of America and on Easter Island and our surprise came when we found out who she was. While we were on tour a man from another tour group came up to our group and introduced himself to us and Josefina. He then thanked Josefina for all the work her family did and told us who we had as our guide. In the late 1950s an American research professor (William Mulloy) visited Easter Island, fell in love with the island then devoted his life's work to restoring the island. Because of William Mulloy's effort and work, all of the statues (moai) now erected around the island are the result of his doing. William Mulloy is the person responsible for bring back the life and culture to Easter Island and now as our guide was the granddaughter of William Mulloy. This made my time on Easter Island more special because of her background and the personal insight that she provided during the tour.