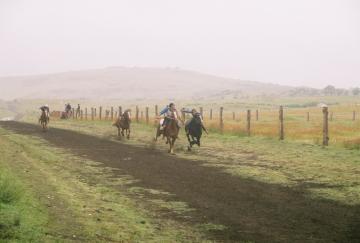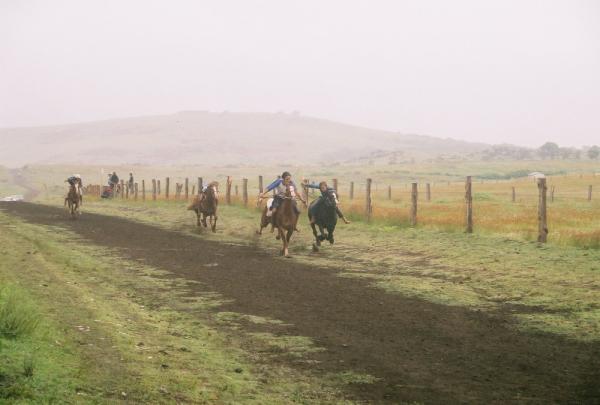 The Tapati (a festival and competition) is one of the most significant cultural commemorations of Polynesia. Each year (for two weeks) the entire island community revives centuries of culture and tradition by dividing into two teams in order to compete to elect a queen. During the two-week festival the competing teams will participate in a variety of traditional events and the team that wins will have their girl elected as Queen of Easter Island.
The main and night events were held at a beautifully built stage in the capital, the only town on the island.
The events consist of traditional cooking (see photo above, as I enjoy some of the traditional cooking), moai carving, fishing, dancing, singing, horse racing (see photo below), and traditional sport events. It was an unexpected surprise while touring around the island to stop in and watch the events.
Above: The singing competition. Each side sings traditional songs but can not mess up the words or repeat a song that was already sung. This will go on until one makes a mistake. Last year it lasted all night.
Another famous event that Easter Island is known for was the Birdman Event, which was an earlier version of the Tapati. Back in the day, after hundreds of years of being stranded on the island (because they destroyed all the wood needed to build boats) with no outside visitors the islanders started to think that they were the only ones in the world and that this island was the only place on the world. But what kept them from fully believing that were the birds. Because each year they would see the birds fly away then about the same time next year would see the birds fly back to the island and intuitively they knew that the birds went somewhere and as a way to celebrate the return of the birds and the island's only contact with the outside world they would hold a festival.
As part of the Birdman Festival each group would pick their best swimmer and this swimmer had to climb down the mountain, swim through the ocean to a smaller island, find an egg laid by a returning bird, then with the egg, and swim back to the main island. The group whose swimmer brought back the first egg would become the chief group for the year.