I appreciated the order of how we did our trip. Mostly because it gave us a foundation of learning about the people of Tanzania and built knowledge of the landscape and then the animals. The experience was all the more rich with building the layers that this country has to offer. Lake Manyara National Park was our first stop and where we first popped the hood of our trusty vehicle, Rafiki. We wove through the dirt roads and thick forests to see our first animals. The forest opened up to flat ground before extending very far into the distance where Lake Manyara was located. You could see a glimmer of pink where the flamingos were feasting. In this flat ground, we saw our first of the Big 5 - the big Cape Buffalo. We witnessed many birds in this area as well as eagles, storks, pelicans, herons and more. This was the first time we saw baboons and our guide was in awe of a troop he thought to be over 150. We also came across some vervet monkeys (also known as blue ball monkeys) with their babies, saw giraffes for the first time as well as zebra and elephants (2 of 5!). We came back to our camp on a high from such an amazing day and couldn't believe it.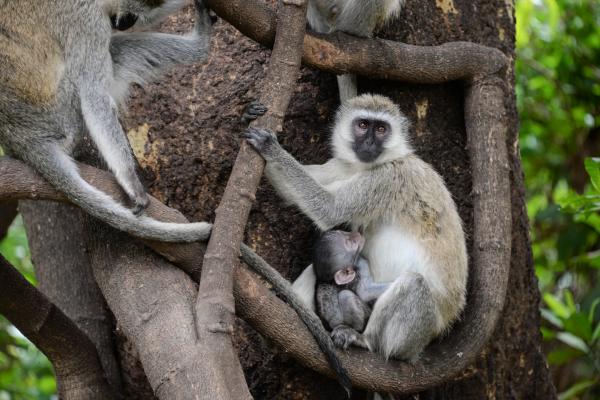 The next day, we took a long and rough journey to Lake Natron. Now reflecting on the entire trip, that three hour drive seemed like the longest one of all. It was our first introduction to what Rama called an African Massage and boy, was it DEEP tissue. We exited the lush Lake Manyara area and descended into the desert of Lake Natron. We "brought our blessings" as Rama likes to say with a big thundering rain storm. They don't have rain often in Lake Natron, so they were grateful to have the blessings. We enjoyed seeing that massive and beautiful storm that you'd picture when thinking about an African storm. The clouds were dark and foreboding while there was sun and blue sky on the other side. It was a great contrasting beauty. Here, we met our Maasai guide, Lemra. He was to be our guide for the next full day at Lake Natron. We walked from our camp to Lake Natron to see the flamingos and an interesting place where there were cows and human footprints cemented into the volcanic rock. We enjoyed getting to know Lemra and learning about his Maasai tribe along the way. We were tired and hot when we returned, but seeing some giraffes up close gave us a breath of fresh air to finish our six mile round trip walk to the camp. We had the afternoon to rest, get lunch and then head out on another adventure. Because it was still on the edge of the dry season, we had the opportunity to hike to a waterfall. Lemra explained that during the wet season, this excursion is not possible and is always dependent on weather. Any big rain would make it dangerous as you are climbing and crossing the river several times. I was grateful to have my handy dry bag as I take it with me on every trip. It allowed me to bring my big camera with us. It was a quick hike (maybe 2 or 2.5 miles round trip) and we had a refreshing dip in the falls when we arrived. We slid down a natural slide on our return. We met some friends from Holland who enjoyed this shared experience with us and we giggled about it over dinner later that evening. It was time to say goodbye to Lake Natron, but not before visiting a Maasai village early the next morning. The Maasai women greeted us in song as the sun rose and we experienced their typical morning routine. I really enjoyed ending our time at Lake Natron on that lovely note, especially after receiving wonderful stories from Lemra and learning about his people the day before.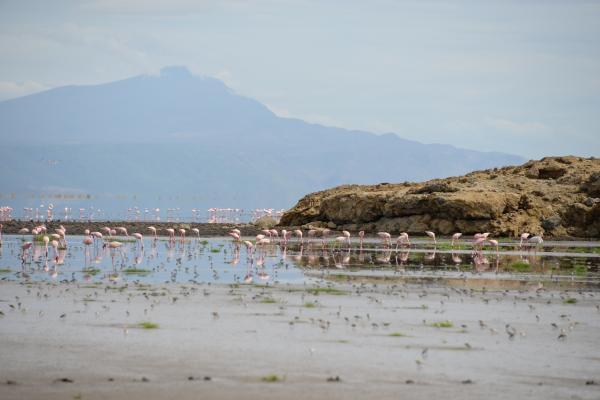 Our journey continued with a long drive to the Serengeti. Even though it was a longer drive, it was much less rough and had enjoyable scenery along the way. The landscape continued to transform before our eyes from desert to lush, to trees and a bit more dry plains. We made a stop for lunch at the Klein Camp entrance and had a break to use the restroom. From there, we popped the roof and started our first Serengeti safari! I think our necks were sore from looking every which way because only a few minutes would pass before we encountered pockets of animals. There were wildebeest, zebra, impala, ostrich, elephants and our first lions (3 of 5!). There were a group of four females with one male and after watching them for a few minutes, we witnessed an intimate moment as the male mounted one of the females. Rama explained that they will mate every 15 minutes for a period of days while the female is in estrus. This will result in lion cubs about four months away during the rainy season when the lions will have a lot of food to enjoy - fascinating! It was getting dark which meant we needed to head to our home for the evening. I think the Serengeti Halisi Camp was my favorite. My husband agreed and he said it most felt like home. The atmosphere was relaxed, welcoming and exciting as we were in the midst of so many animal sounds. This is where we saw a hyena running through camp with a bucket and our first lion roars. The next morning, we enjoyed a hot air balloon for a completely different vantage point of the Serengeti. We continued our safari day with Rama and witnessed so many animals, it was hard to absorb. Wildebeest and zebra, as far as the eye can see, herds of elephants, hyenas digesting in mud puddles (and Rama giving a great rendition of what the hyena was saying to explain why he was in a puddle), hippo pools and yawns, a cheetah walking in the middle of the road and so much more. The Serengeti lived up to what I thought it might be and I was a kid again, enraptured by the beauty of the Lion King. Returning to our "home" that night, we were giddy and an awe. We shared our stories over a bottle of local beer with our new friend from Germany, Dennis. The next morning, we had a morning safari before breakfast. We visited a hippo pool to watch them come back from their night of grazing. We were lucky to catch a glimpse of a leopard (4 of 5!) and her two cubs. Rama saw with his amazing eagle eyes that there was a dead gazelle high in an acacia tree. We stopped and waited to watch the kill and sure enough the leopards came to protect their food. We returned to camp for lunch and to say goodbye to the amazing staff who helped us make this place home for two nights. We set off to drive south through the wide plains of the Serengeti towards Ngorongoro. On the way, we spotted a cheetah and her two cubs on their own version of pride rock - lovely way to end our Serengeti experience.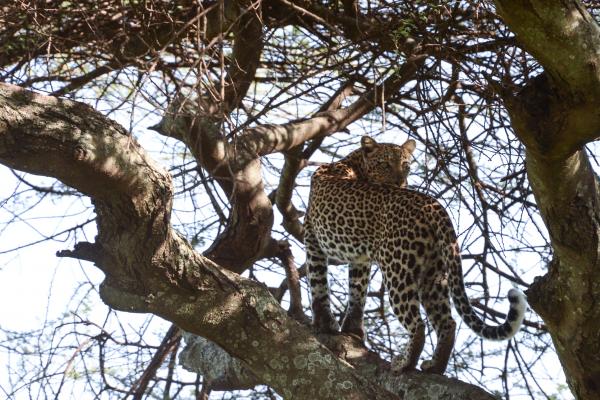 ​We enjoyed a lunch break and short hike at the Naabi Hill Gate where we saw our first souvenir shop since starting our trip. Rama reassured us to wait and we're glad we did - plenty of opportunities to get souvenirs along the way and even at the airport where they had things for reasonable prices. We continued to the Ngorongoro conservation where we began to see our Maasai friends again. As it's a conservation area, the original tribes who resided there are able to live there along with the animals. This place was unique as we saw more of the animals here intermingled with the cattle like giraffe and zebra. As we climbed elevation to the Ngorongoro crater rim, we felt the temperature dropping. We were at a deceivingly high elevation (almost 7,500 feet) which is 2,000 feet above the lowest part of the caldera. The entrance to the crater only allows you to be there for six hours total. That meant we were headed there the next day. We arrived to our next home for the night at Pakulala Safari Camp. This was one of the most luxurious camps we stayed at and a close second favorite. We were incredibly spoiled and had the place to ourselves. As the temperature was much cooler, the blankets on the beds were thicker and they even gave us a hot water bottle for our feet at night. They had my favorite bush TV area because it came with a view and popcorn. My husband and I enjoyed some Chilean wine (our last trip together included lots of Chilean wine) with our popcorn and the view. Our new friends including Victoria and Amos took great care of us that evening. The chef was amazing and we had the best meal of our entire stay. Victoria convinced us we were having hyena for dinner, but he must have run away with a bucket because we had some beef and pork chop instead. Another favorite about this camp is that we had non-human visitors! A few zebra grazed nearby and an elephant strolled into camp looking for water. After an amazing evening, delicious breakfast, and a sweet happy birthday goodbye for my husband, we set off to enjoy our few hours in the crater. Today is where we saw our rhino (5 of 5). Hats off to Rama for orchestrating great timing on his part to see all 5 of these creatures. It was a special day and we saw plenty of the same animals we saw before and a few new ones. I wish we had more time to search for lions, but we still had another park to help us out with that. 
After lunch, we began the journey to Tarangire where Rafiki's wheels finally met up with smooth pavement for the first time in a while. It was about a total of three hours to drive to the park and we saw a few animals on the way. We had a bit of a culture shock as the lodge had many more people than we encountered on our entire trip. We joined everyone at the beautiful overlook to watch the sun set and glimpse some animals moving below. This was the place to see elephants, for sure. Dinner was very special as the staff came out in Maasai clothing and sang happy birthday to my husband. They even had a cake made for him. With a great birthday under his belt, we went to bed happy and excited for our last day on safari. We witnessed a "reunion" of elephants who usually travel in groups of 10. We could have sat there and watched them all day, especially one baby who was making us laugh. He was so playful and clumsy. My favorite part of this day was seeing a lioness stalk a herd of zebra and attempt to take one down. To add a cherry on top, we even witnessed giraffe drinking water which is always something enjoyable to see. As we headed back to the lodge for lunch, we also saw a couple of male lions lounging under a tree not too far from the road. We had a short time in Tarangire, but it was full of special sightings.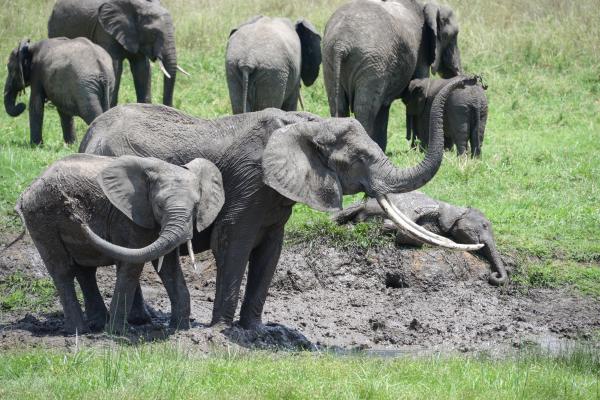 Each park was so different and had a lot to offer as far as experience and animal sightings. That being said, each season, day, car and guide will provide a different experience for these destinations. It's important not to expect anything when you start your day and you will always be pleasantly surprised.