We ended our trip with a few days in beautiful Zanzibar. It's important to be mindful of the change in culture as you travel to Zanzibar as it's not the typical beach vacation you may have in mind. You are encouraged to be more modest when enjoying the sunshine and warm water of the Indian Ocean. I wore a swimsuit cover that also covered my shoulders. While swimming, you are welcome to strip down to your suit and enjoy the water. It doesn't hurt to keep covered so you prevent yourself from burning as well.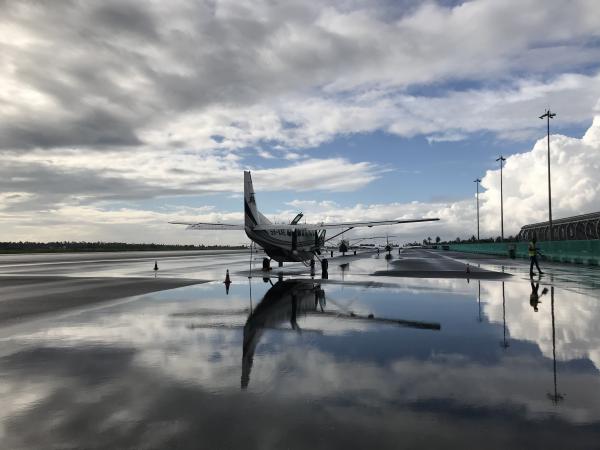 We had one night in Stonetown before continuing north to the Nungwi beach area. In Stonetown, it was nice to experience the bustling city, close access to the beach, as well as night markets to enjoy some fresh seafood. On our way north, we stopped to try out a Spice Tour. I would highly recommend one if visiting Zanzibar. We again, brought our rainy blessings and our spice tour guides did their best to show us all of the plants and fruits on the farm during the storm. We didn't mind as the rain was warm and tropical. Many of these spices and plants were new to us and we had only seen them in powder form or dried in bags. It was really special to see their origin and how proud these guides were of their product. Our guide, Idi, was knowledgeable and really fun. He had an assistant guide we called Tarzan who was really sweet and creative. He would always climb a tree to get us some fruits to test (why we called him Tarzan). Along the way, he would weave small gifts for us from palm leaves and flowers. He made me a ring, bracelet, necklace and crown. He made a tie for my husband, bracelet and crown. We were the King and Queen of spice by the end of the tour! We had the opportunity to try some fresh fruits and buy spices directly from the company. I was excited to take them home and try to replicate the Tanzanian soup I had come to love.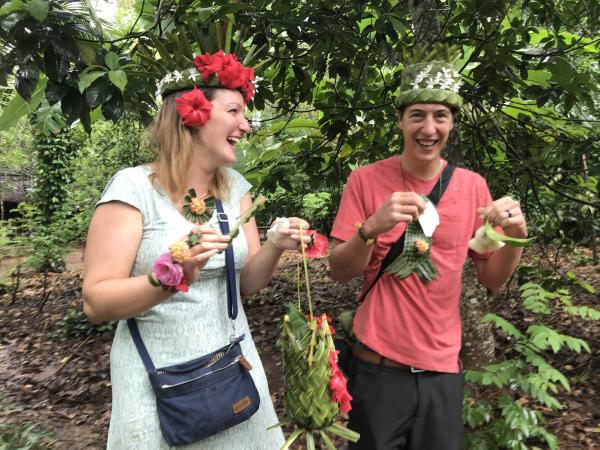 We continued north to enjoy our time on the beach for the next day and a half. We arrived early afternoon and took a walk up the beach to a turtle aquarium. We learned about how they were working hard to save the sea turtles and return them to the sea when they are strong. We enjoyed a delicious dinner at our hotel, Flametree Cottages, that was right next to the beach. It was still a bit rainy that evening so we didn't see the sunset, but it was still beautiful. The next morning, we woke early to take a ride on horses at sunrise. I love riding horses every chance I get and try to do it whenever I travel. I did some research and a newer stable had opened up about a year ago called
Zanzibar Horse Club
. They had some pretty happy horses and it was special to ride on the beach. Our guides were very kind and we really enjoyed the experience.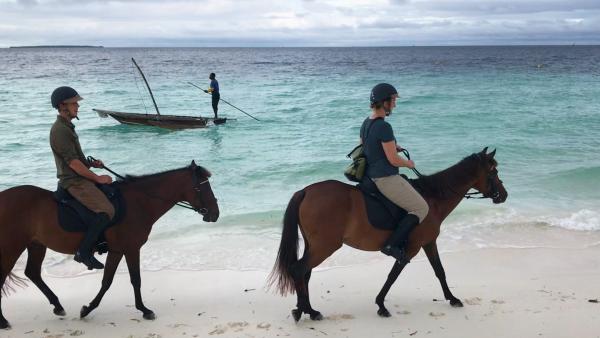 We signed up for a few other activities directly with the hotel and our next one was snorkeling. Two guides took us out on their boat to snorkel for a bit at Kendwa Coral Garden.This was our first time in the Indian Ocean - it was lovely and warm! The snorkeling was a bit cloudy which I think was because of the rain storm the day before. Even so, we did see lots of fish and enjoyed swimming around and exploring the reef. On the journey back to the hotel, our guides offered to sail. It was amazing to see how they used their mast and sails to pivot as they changed directions. These men were strong and talented. We had a great outing with them. Our next scheduled event at the hotel was henna and a massage for my husband. They had a lovely outdoor massage table and they were able to do my henna next to him. We had some time to enjoy the sunshine and pool before our sunset cruise at 5 PM. This was similar to our snorkel sail, but we had a beautiful setting sun to enjoy. This sunset definitely made up for the night before and it was a glorious way to say goodbye to beautiful Tanzania. We packed our days full at the beach but it was still lovely and relaxing. It was nice to walk a bit and stretch our legs after being in the car and on safari. We enjoyed all our activities and I would recommend them to anyone to enjoy your beach days and last bit of time in Tanzania to the fullest.