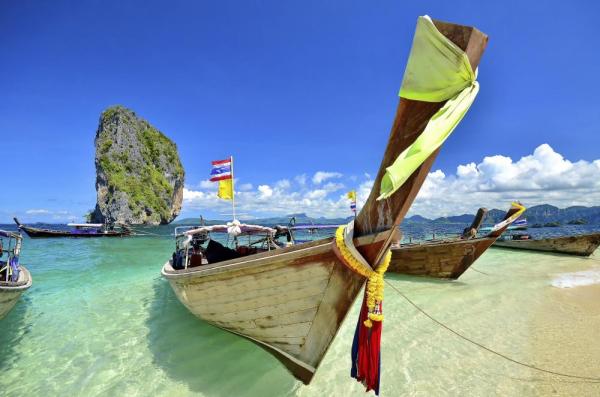 Best Times for Travel to Thailand
Thailand is a nice year-round destination without any particular "off seasons" for travel. If a time of year might be avoided, it would be the rainier season (monsoon season) which is from July to October. This is typically characterized by consistent afternoon showers that may lead to major flooding in certain areas. Some islands and boat services shut down due to stormy weather during this time and you may need to be more flexible with travel plans and excursions. Those traveling to the beaches during these months may want to consider north and gulf coast options, particularly during September and October, as they tend to have less severe weather as the west coast region.
The shoulder season for tourism runs from April to June and is markedly hotter and drier. The beaches during this time of year tend to be less crowded as typically only the ocean breezes provide cooling.
High season for travel is November through March. This is characterized by cooler, drier weather after the monsoon season. The landscape is lush and temperatures are very comfortable during these months. Tourist crowds tend to increase during these times, particularly over the holidays in late December and early January.
Central & Eastern Thailand
These regions have extreme summer temperatures that are typically in the mid 90's during the hottest months of February through April. In the winter months the temperatures are still relatively warm, settling in around the high 70's to mid 80's. Rainy season begins around May in this region and goes through October. The rain is frequent but only in short bursts where the humidity relieves itself for an hour or so.
Northern Thailand
Both the North and Northeast regions have relatively similar seasons. The winters here are significantly cooler due to the higher elevations. Temperatures in winter may even get down to freezing levels on occasion. Spring is a great time to visit these areas, as flowers are in bloom and the weather is dry and cool.
Southern Thailand
The seasons in south are less distinct than other parts of the country. Two seasons exist, summer and rainy season. The south is divided into two distinct coastal areas: one lying to the East which includes the Gulf of Thailand, and the other lying to the West of the Thai peninsula which includes the Andaman Sea. Visiting the western areas of Phuket, Phang Nga, Krabi is usually best mid-November through April. This allows travelers to avoid the monsoons that occur during other months. Monsoons tend to make visiting islands by boat dangerous and susceptible to last minute cancellations by operators. Visiting the Gulf of Thailand regions of Koh Samui and Hat Yai is best done from December to June. However, this region is also possible to visit during the rest of the year so long as short afternoon showers are a welcome occurrence. The monsoons in this region are not as severe or likely to cancel the day's activities as they are in the Andaman Sea region.
Songkran Festival
Songkran is the celebration of the New Year according to the Thai calendar. It officially starts on April 13 and lasts for three days. Leading up to the holiday it becomes quite common to splash people with water and toss a colored powder on them. Local monk and family members are honored, and huge water fights break out in the streets. It is advisable for travelers to carry cell phone and other cameras in watertight baggies to ensure nothing gets wet. Please keep in mind, that even as a tourist it is pretty inevitable that you will get wet during Songkran!