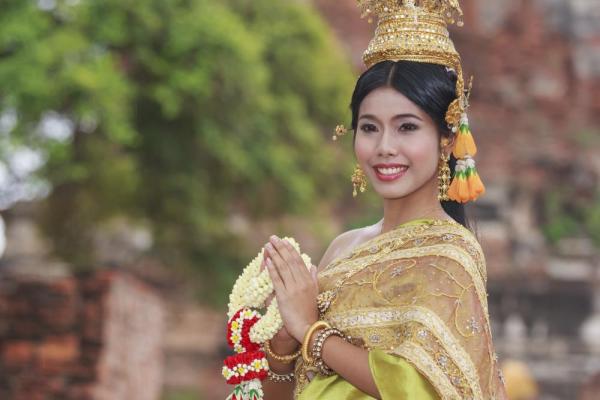 Thailand's culture incorporates a great many influences as would be expected from its constantly changing government and kingdoms throughout the centuries. Religious influences have been mainly comprised of animism, Hinduism, Buddhism. Thailand's population is nearly 94% Theravada Buddhist. The next closest minority religions are Muslim (about 5%) and Christian (about 1%).
Buddhism in Thailand has also become integrated with folk religion, or practices and superstitions that Thais have added to the original doctrine. For example, it is strongly influenced by traditions regarding ancestral and natural spirits. Thai families often build a small house to hold these spirits. As you travel throughout Thailand, you will see these located directly outside a home's main entrance. Food and drink offerings are left in the spirit houses on a regular basis to keep them content. It is believed if they are not kept happy, then the household will experience chaos.
Buddhism in Thailand is also influenced by Chinese religions and influence due to the large Thai-Chinese population. Some Chinese have "converted" to Thai-style Theravada Buddhism. However, many still maintain separate temples of the East Asian Mahayana tradition.
Temples, or
wats
, are a definitive part of any trip to Thailand. The white structures with tall, golden stupas are literally everywhere you go in this country! As you approach the temples, you are sure to smell the fragrance of incense, exchange smiles with a golden-robed monk, and appreciate the detailed architectural design. Choosing a just few temples to visit is a great idea as it can get exhausting if you try to see too many of them during your trip.
Upon entering a temple, there is an immediate sense of calm and reverence that should be respected. Visitors should always dress appropriately – both men and women should not wear tank tops or shorts that do not cover their knees. Shoes should be removed before entering, as well. You should stay out of the way of worshipers, back away from the Buddha rather than turning your back, and never point your feet at a Buddha statue. All visitors should avoid touching objects in the temple, and women should never touch a monk. Even accidentally brushing against a monk's robe requires him to go through a lengthy "cleansing" ceremony.
Admission is not required, but travelers can definitely choose to help support the monks with a monetary donation if you so choose. Donation boxes are typically outside of the temple door. Consider that visiting a temple is free, but it is truly a unique experience that gives you a glimpse of Thai culture, tradition, and history.