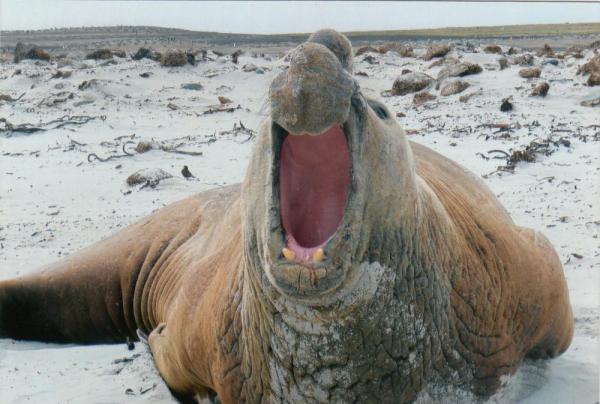 Our last day in the Falklands! I had time in the morning before being picked up at Lafone House at 10:30 to visit the Falkland Islands Collectibles shop for a last minute look through post cards and covers. The proprietor agreed to come in earlier than usual for my benefit - and his.
The drive to MPA from Stanley takes about 45 minutes over a mostly gravel and very dusty road. The landscape is through low rolling hills with rocky outcroppings and some views of the shoreline.
We were amazed when our driver told us that the following day he would be acting as one of the support vehicles for a bicycle tour of East Falklands. We could not imagine wanting to cycle over the available roads - all rough, dusty and buffeted by the constant winds. The cyclists must be made of tougher stuff than I am!
Arrival at MPA was the beginning of our return trip home and this leg of it, at least was something to be looked forward to. The waiting room at MPA is quite Spartan, but adequate.
Our flight on LAN to Punta Arenas included a stop at Rio Gallegos in Southern Argentina to let off the Argentines who had been visiting the Falklands on the once a month flight for the allowed by the Falklands government.
Rio Gallegos is on a coastal plain and appeared to be a fairly large city. Our stop there was brief and we were off again towards Punta Arenas, Chile. An hour stop there got us through customs and back on the flight to Santiago where we arrived about 10:00 pm.