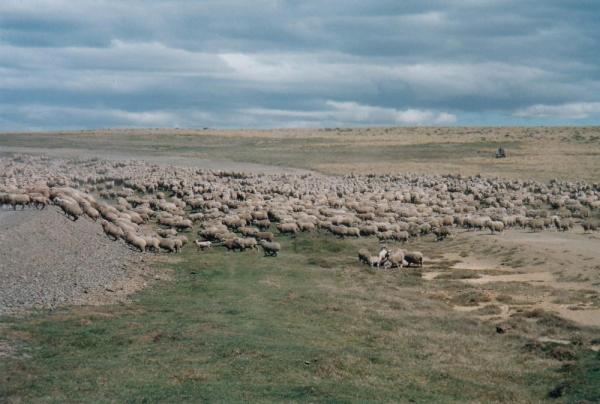 We got an early start this morning to catch the 0715 flight to Punta Arenas and then on to Mount Pleasant Airport, Falkland Islands. This is the military airbase and home for the 2000 troop garrison that is permanently based in the Falklands since the war with Argentina in 1982. I will refer to this in future simply as MPA . After the long overnight flight from Toronto this flight was a pleasant change with the changing views of the Chilean landscape passing below our window. The five hour flight was broken up by a one hour stop at Punta Arenas where everyone had to leave the plane taking all hand luggage with you. Lan, formerly known as Lan Chile provides a snack on both legs of the flight.
We arrived at MPA about 1330 and were met in the airport lobby by Sally Ellis of International Tours & Travel Ltd. of Stanley, Falkland Islands and given an extensive portfolio of brochures and detailed tour itinerary.
After weighing in our luggage, and ourselves we were ready to board the Falklands Islands Government Air Service Norman Islander eight passenger plane that would fly us to Pebble Island in the West Falklands. I shall refer to this air service in the future as FIGAS, the normal term used in the Falklands for this very efficient service.
It was a very windy day and we experienced considerable turbulence during the flight and also a period of thick fog during which the pilot turned and said to the passenger behind him that he couldn't find Pebble Island - a not very assuring statement for him to make! Since the planes fly only on visual flight rules that was not good news, especially on our first flight with FIGAS. The pilot flew up to a higher altitude and was able to see Pebble Island in the distance which luckily was not fogged in. We landed about 20 minutes late on the grass runway and were met by our hosts Jacqui and Allan.
They drove us the short distance to Pebble Island Lodge and showed us to our rooms. Much to my surprise we were given the same room in which I had spent three nights there in November 1998 during an earlier visit to the Falklands.
Of course we were offered the usual tea and cookies, which is a staple at all the lodges and guest homes in the Falklands. There were several other guests for dinner after which Jacqui took our orders for breakfast. Pretty much any kind of cooked or dry cereals were available.