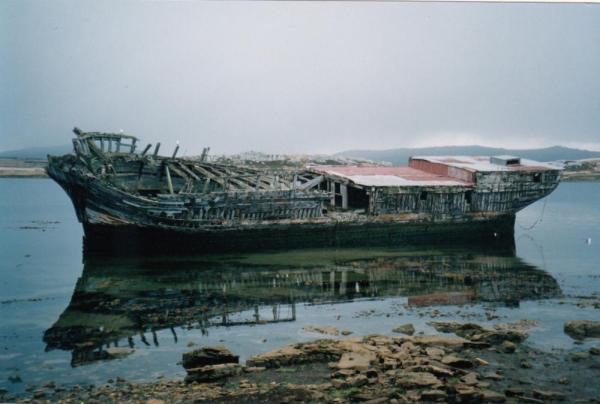 This was our full day tour of Pebble Island with our hosts Jacqui and Allan in two separate land rovers since there were more guests than one Land Rover could accommodate. We were in Allan's vehicle and he proved to be an excellent guide and explained everything of interest very well. He was especially good with the history of the Falklands War of 1982 in which Argentina invaded the Falklands in an attempt to gain control of the islands. Because of the iron will of Prime Minister of Great Britain at the time, Margaret Thatcher and the strong backing from her parliament, the British were able to defeat the Argentine forces some three months later. We visited memorial sites, the grave of Argentine airmen and the site where British forces destroyed 11 Argentine aircraft that were parked on the landing strip as well as the memorial to a British frigate sunk by the Argentines in The Sound just off Pebble Island.
We took packed lunches and ate them while viewing a Rockhopper Penguin rookery. Nearby was a large nesting area of Giant Petrels, or 'Stinkers' as they are called in the Falklands. Later we visited a Gentoo Penguin rookery.
Pebble Island is named for the marble size stones, or pebbles found on some of the beaches. They are an agate like stone that can be tumbled to a very glossy finish.
We also were shown some of the native fauna, including the beautifully named and delicate flowers 'Lady Slippers' and 'Pale Maidens'. There are many different plants, but due to the constant winds they are mostly very short stemmed. The two fern species are aptly named 'Small Ferns' and 'Tall Ferns'. There are large areas called 'Diddle Dee' deserts covered with a low, densely packed plant related to the crowberry family. Sheep will not eat it making those areas useless for grazing purposes.
Like most of the islands there are only about half a dozen people living on Pebble Island.
Very welcome tea and treats were waiting for us when we returned late in the afternoon.