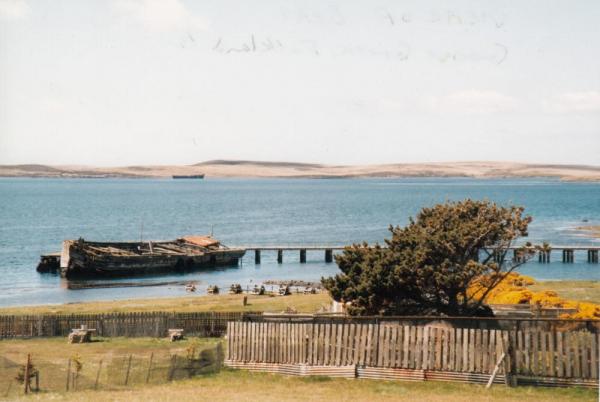 Today's flight to Saunders Island was much more pleasant than the one from MPA and more in the nature of a sight seeing flight. Most FIGAS flights are made at an altitude of under 1000 feet and usually in good visibility which gives an excellent panorama of the islands.
Here we met our hosts for the next two days, David and Suzan. We found out we and another couple from Alabama would be going to the self catering cabin at The Rookery, not at The Neck as shown in the itinerary. It didn't matter to us - it would all be a new experience anyway. Before we left for the nearly one hour drive by Land Rover across the hilly and very rough track. We had to stock up with enough groceries for the two days at the small store run by David and Suzan. We had elected to buy provisions from the store rather than have meal packs sent from Stanley, which we found to have been a good decision. The store is small, but is adequately stocked with canned, frozen and fresh food. We bought bacon, eggs, canned beans, a frozen chicken pie, sausage rolls,bread, fresh milk produced right at the farm, margarine and juice. As it turned out we had just the right amount of supplies for the two days - good planning or good luck? There was tea, coffee, cooking oil, salt and pepper, sugar and other staples at the cabin. The cabin has a modern kitchen, large living/dining room and two separate bedrooms.
Power comes from a generator and storage battery setup which David showed us how to turn on and off. The generator had to be run three or four hours per day to keep the batteries charged. To plug in electrical devices in the Falklands you need a British three pronged plug unlike any North American plugs. Current is 240 volts.
The cabin is located a short hike from a Black Browed Albatross nesting site and a large Rockhopper Penguin colony which is also used by Blue Eyed Shags as a nesting area. The two species get along very well together.
The other couple had thought of hiking to The Neck from our location but found that to be nearly impossible, although someone had written in the guest book of having done it.
Another short hike from the cabin is a long sandy beach which has Gentoo and Magellanic Penguins coming and going to their nesting areas. Cows and sheep also roam the beach foraging on seaweed and Falkland Islands (flightless) Steamer ducks and other ducks also use the beach.
David left us a VHF radio for communicating with him should the need arise. This is an isolated place to stay with no traffic or other people wandering past.
The two days and night spent there passed too quickly and at 0800 on the 9th David's Land Rover hove into view over the crest of the hill while we were still bagging up our bedding and cleaning up the breakfast dishes.
This is the place to get away from it all!