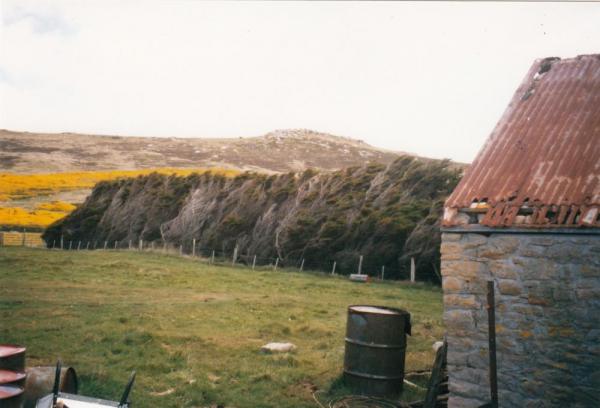 Today our hostess, Jenny drove us to the north end of the island to see the rockhopper penguins at their nesting sites. The tour also stopped at a memorial to a British frigate that was sunk just offshore by the Argentines during the 1982 war. Some spectacular vertical cliffs nearby challenged the nimble rockhoppers during their climb up to their nests.
The weather which was in the low 60's F or about 17 C was the warmest of the tour.
In the afternoon we were treated to a spectacular show by the local pod of orcas which had made a kill of either a young elephant seal or a penguin, which caused a feeding frenzy amongst the orcas and also attracted a large number of skuas, gulls and giant petrels. This all took place only a couple hundred yards offshore.
At the same beach area there is a large nesting colony of the dapper looking dolphin gulls and a few brown hooded gulls. Oyster catchers are frequently encountered along the beach and this season there are young ones scampering around in the seaweed and beach stones. The adults can be quite aggressive when they feel threatened by beach goers.
One day while on Sea Lion a large search and rescue helicopter from MPA landed to let off about 20 day trippers for an unguided tour of the island. The island hostess has a good rapport with the military staff at MPA as they are able to offer mutual assistance at times.