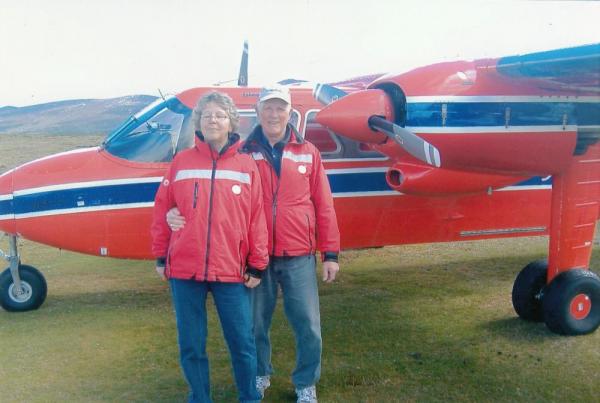 Today was our last chance to explore Stanley and its interesting variety of gift shops, the museum and post office. But first we had arranged a tour to Cape Pembroke to visit the 150 year old cast iron lighthouse which had been fabricated in England, brought to Stanley and then the cast iron panels bolted together. It had been in nearly continuous use until the war in 1982 when it was damaged by the invading Argentines.
At this site there is a memorial to the British containership 'ATLANTIC CONVEYOR' that was sunk by the Argentines using an Exocet missle. They actually thought it was a British aircraft carrier which they very much wanted to sink. Actually the 'ATLANTIC CONVEYOR' was nearly as important to the British as the aircraft carrier because it was carrying many helicopters, spare parts and much other important war materials.
Part of this tour included a visit to the very scenic Gypsy Cove area. All of the beautiful white sandy beach there is off limits because of a mine field. The drive to Gypsy Cove is somewhat marred by the location of a landfill area through which the only road winds its way.
Our tour ended at the museum where we had the pleasure of meeting the curator.
We wended our way back towards Lafone House stopping at many shops and had lunch a neat little diner/cafe. Across the street is a really neat little shop called 'Falkland Island Collectabels' loaded with post cards, covers and lots of ephemera.
On the waterfront the Falkland Islands Co. has a pier and an old wooden sailing ship that was formerly a warehouse, but it has now fallen into poor condition and is no longer usable. I was able to get permission to visit the old ship, which was built in New Brunswick, Canada in 1850. There used to be several of these old wooden sailing ships at Stanley used as warehouses, but over the years they have gradually fallen apart. But considering that they have been there since the 1870's they lasted pretty well.
The bow section of one U.S. built ship, the CHARLES COOPER has been placed ashore for future preservation at the soon to be new location of the Stanley Museum.
After another interesting dinner at 'Shorty's' it was time to spend our last night in the Falklands.