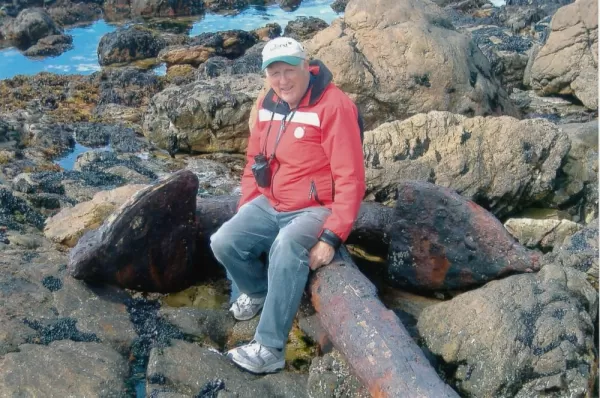 This was an important day for me because of the tour to Volunteer Point, about 20 miles east of Stanley, and more importantly to go farther on to a site near Cape Carysfort to view the remains of the Norwegian steamer GUVERNOREN. On Dec.6, 1917 this ship, then named IMO collided with the French steamer MONT BLANC in Halifax Harbour, Nova Scotia. The resulting fire aboard the MONT BLANC caused her cargo of explosives to explode which resulted in the largest man made explosion up to that time. Halifax was devastated with over 2000 people killed and as many injured. Later the IMO was repaired and put back in service as a whale oil carrier named GUVERNOREN. Her life under this name was short lived and on Nov. 29, 1920 ran aground near Cape Carysfort and was wrecked.
Our Falklands Quest Tour included a day trip to Volunteer Point to see the king penguin colony. I was able to arrange with the kind help of Sally Ellis of International Tours & Travel Ltd., of Stanley to be driven the additional hour or so to the site of the wreck of the GUVERNOREN. She had warned me that there wouldn't be much of the wreck visible and then only at low tide. I was able to find out before leaving home that low tide on Nov.17 would be at four thirty in the afternoon which suited our travels perfectly.
The driver who took me in his Land Rover had visited the site a few years ago on a family outing so knew where to look for the seldom visited wreck site. On the drive from Volunteer Point we crossed peat bogs and drove across the beautiful and pristine Cow Bay before stopping for lunch at a rocky beach. Here we found some of the smoothly polished, roundish pebbles found in some places in the Falklands and for which Pebble Island is named.
Finally we arrived at the headland overlooking the wreck site. At first I couldn't see anything of interest, but after looking more closely I could see some part of a ship visible just above the water a couple of hundred yards offshore. It is thought to be the ship's boiler. Then we went down among the rocks near the water's edge and found one of the ship's very large anchors, three piles of anchor chain and a few bits of cast iron parts which may have been from a hawse pipe. Luckily it was low tide that afternoon because at high tide there would be nothing of the wreck visible.
Earlier when we arrived at the King Penguin colony at Volunteer Point we met up with the convoy of 26 Land Rovers that had taken passengers from a cruise ship visiting Stanley for the day. The penguin colony is a modest sized one and had both adult and juvenile King Penguins. It was amusing to note more people lined up waiting to use the toilets than were looking at the penguins.
There are wardens attending the colony who live nearby for the summer in a warden's house which can also be rented by the day on a self catering basis by tourists.
On the way to Volunteer Point we stopped to view the remains of two Argentine helicopters that had been blown up by British forces during the war in 1982. Also viewing these remains were the eight Argentine photographers that were also staying with us at the Lafone Guest House in Stanley.
After the long return drive back to Stanley I retired to our master bedroom at Lafone House for a rest before dinner. My wife, Helen had elected not to go with me to Volunteer Point and spent a very pleasant day poking around Stanley.
Later we went out for dinner and decided on the 'Victory Bar', an old style English pub. This was a really interesting pub with local people and lots of memorabilia on the walls. We decided on the usual pub fare of fish and chips. The fish here is the local mullet, which in this case was really quite good.
Just to illustrate how small the world is: There was a small group of men at the pub chatting so I stopped by to say 'hello' and the very first person I talked with is the nephew of a good friend who lives just a few houses from us. He was part of a Canadian helicopter crew servicing an offshore oil rig.
After a refreshing walk back to Lafone House we were ready to call it a day. However the Argentines staying there had other ideas and were just setting up a bbq to cook a lamb. It sounded really good, but us old folks couldn't wait up for the final result. I learned the next morning that it was 11 pm before the meat was cooked and the party went on until two the next morning.