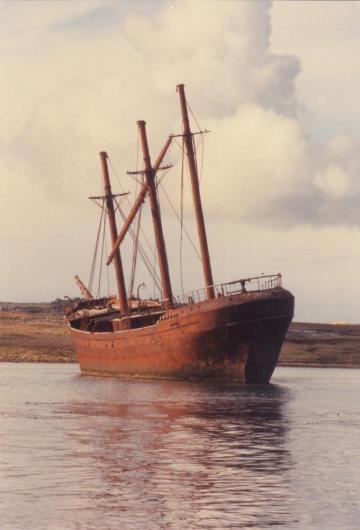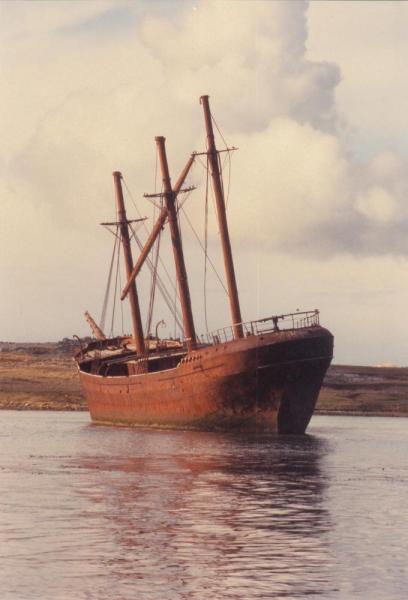 Our all day tour to West Point Island, which was conditional on weather permitting was a go since it was a sunny day with only light winds. Our boat, the CONDOR, which was a German built North Sea trawler, was a sturdy and comfortable seaboat and travelled at a modest eight knots.
It is a two hour trip to West Point Island, which has one family living there. Along the way we saw only a few seabirds, namely Wilson's Petrels, some terns and a feeding frenzy of Black Browed Albatross. Ahead of us we could the see the aptly named Slipper Island. Approaching it from the south, as we were, it is shaped exactly like a Romeo style man's slipper.
We did a circumnavigation of the island and arrived at the settlement before lunch time. After a ''mug up or smoko'' as it is called in the Falklands we elected to get a drive to the north side of the island to see the Black Browed Albatross and Rock hopper penguin nesting areas. The two species intermingle freely and except for minor squabbles when the penguins snitch bits of the albatross's nesting material, they get along just fine.
We ate our packed lunch overlooking the nesting area and marveling at the cliffs and high hills on both sides of us. Then we walked back to the settlement and had a rest and another treat of tea and sweets. There are some beautiful gardens at the settlement - all suitably fenced in and surrounded by thick rows of cedar tree windbreaks. There are no native trees on the islands, but many settlements have had rows of trees planted as wind breaks. On Carcass Island there even a few palm trees.
In one of the gardens here there are part of the ashes of pioneer cruise ship operator Lars Eric Lindblad, who was very attached to West Point Island. I visited this island on Lindblad's purpose built ship; EXPLORER, ex LINDBLAD EXPLORER in November 1998, but it was operated by a different company then.
Later we settled in on the CONDOR for the voyage back to Carcass Island. I spent the entire crossing in the wheelhouse chatting with the captain about the CONDOR and his life in the islands. There was barely time for a short happy hour before it was time for another of Chef Hot Stuff's delicious dinners.