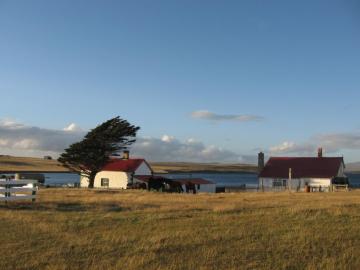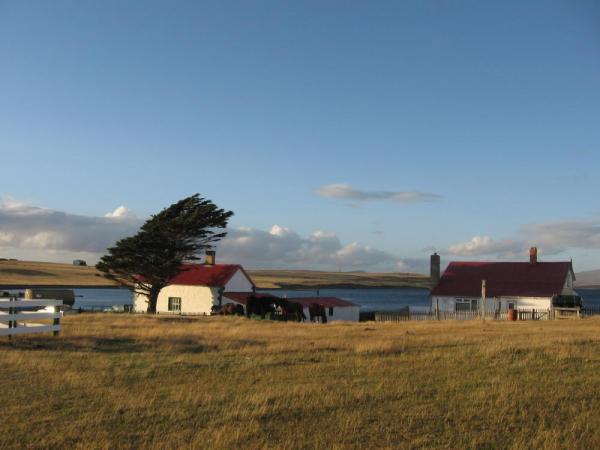 We started the day by being weighed (a dreaded prospect after last night's dinner) for our local flight. They weigh everything, including hand luggage to know the amount of fuel necessary.
This morning, we walked along the coastline this morning before our flight. Along the harbour, we saw a misplaced Gentoo penguin playing in the surf.
After we returned, Graham drove us a few minutes to a large field, a landing strip for the 9 seater inner island planes. Graham (and all island hosts) are also trained to act as fire fighters and air traffic control for the small planes, informing them of wind speed and direction among other things. Their land rovers are attached to a tow platform for a fire fighting apparatus that is stored in a shed at each landing strip.
The plane ride to Saunders took 30 minutes. We were picked up by David and Suzan, a welcoming couple that own the island. I asked David how long he had lived on Saunders and he replied "53 years and I hope to die here someday as well." David's dad used to manage the island and was offered the chance to buy the entire island in the 90s. The island is now home to 5 to 7 residents, all related to David. He is 5th or 6th (he wasn't sure) generation Falkland Islander. Suzan grew up on West Falkland.
After a basic lunch (cheese and butter sandwiches, potato chips, cookie and chocolate), David drove us along a rough 4WD track to the Rookery. The cottage there is available for rent with two rooms that each have twin beds. Most of Saunders is self-catering, but they will cook for large groups who stay in the main Settlement House as we were doing.
The Rookery has thousands of Rock Hopper penguins and Cormorants mixed in. This time of year they were all standing around molting. Along the way to the Rookery, we also saw Gentoo penguins on the beach and Magellanic, the shyest of the penguins, peeking out from burrows in the hillside. Near to the Rookery, dozens of albatross are nesting in the cliffside.
Afterwards, we drove down to the beachfront were the first British settlement (later abandoned) was located. This abandonment gave Argentina a chance to later settle the islands as well and muddle the issue of which country actually had rights to the islands.
Saunders Island is stunning with an impressive history and wildlife. Accommodations are very basic and the only "roads" are 4WD tracks that are often steep, rocky, and challenging.
Suzan prepared us a simple but delicious farm cooked dinner with roast, potatoes, cabbage, vegetable soup and heavy cream with custard and canned pears for dessert.