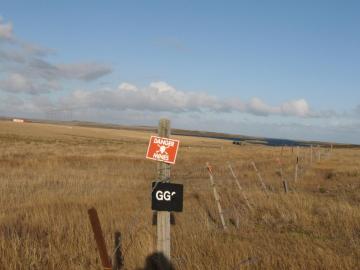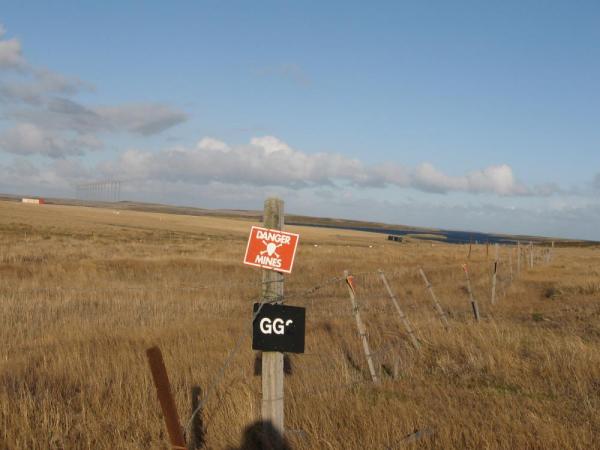 This morning we woke for another flight to Weddell Island, the 3rd largest in the Falklands. Martin and Jane are the hosts and only residents. They are incredibly lovely. Martin teased us nonstop and took us off on a 4WD tour of the island shortly after arrival. He told us that he had emailed the wildlife to make sure that they were positioned properly for our visit. You would think that he had. We saw a giant Southern sea lion peeking over the tussock. With his huge mane, he looked more like a lion than a sea creature and posed nicely for photos. Shortly thereafter, we saw Commerson's and Peale's dolphins and LOTS of King Cormorants nesting in the hillside. We also dodged Magellanic burrows the entire way and saw a few peeking their heads out to watch us in the gloomy weather.
The wind was fierce. It's been strong everyday, but seems to get progressively worse. We ate our packed lunches in the comfort of the 4WD watching the sea for wildlife as we ate.
We also saw the Patagonian foxes that had been introduced in the 1800s but did not seem to be causing much trouble according to visiting researchers. After tea back at the lodge, we drove to a huge Gentoo penguin colony near the lodge. We watched the Gentoo penguins marching back in from the sea and walking over ½ a mile to reach the colony. They looked like little businessmen chattering to each other in their suits after a long days work as they hiked up the hill to the colony.
From there, we followed their path down to the sea. The Gentoo were amazing, leaping through the water in groups of 5 to 10, porpoising their way to the beach in dramatic display. They would jump straight out of the water and onto walks on the shore in one fluid motion.
Back at the lodge, we had a fantastic dinner of Upland Goose (a prevalent native species that is regularly hunted) and Weddell Lamb. For dessert, we had a meringue made of penguin egg with tea berries and cream.