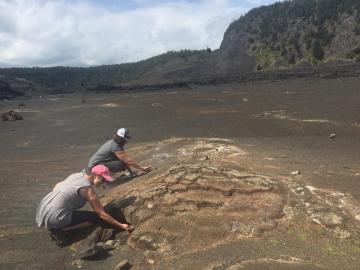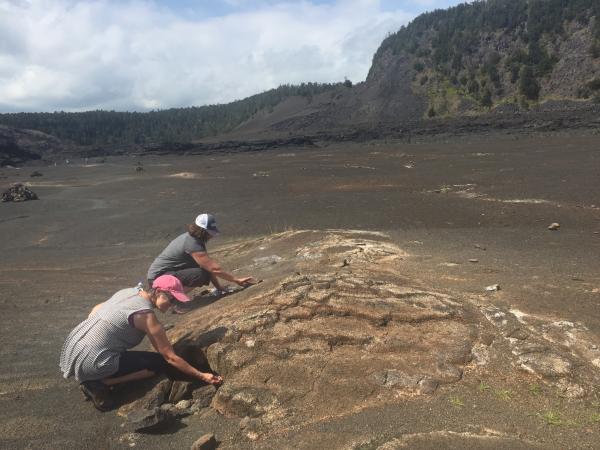 If the conditions are right, you can actually hike out onto the lava flows near the southern coast of the big island of Hawaii. When we were there, conditions were great. We booked a bike rental complete with lights, water and bike locks, and set out in the late afternoon on bike. After a few miles of biking along old lava flows, and new houses built right on the black lava, we parked our bikes and took off on foot.
There was one park ranger near the gate that vaguely pointed us in the right direction, and we set off. I was quite surprised that in a national park, there was no guidance and no precautions taken. We hiked for about an hour towards the hillside, picking our way over huge chunks of relatively new lava rocks. The hiking wasn't easy, but we took our time and followed the steam coming out of the lava rocks ahead of us.
As it was getting dark, we started walking toward some steam and started to feel the heat coming from below us. I leaned down and felt how warm the lava rocks were below us. I realized that you could see the glow of the hot lava through the cracks. We were walking on freshly cooled lava. Who knows, this could have been flowing lava that would one day become a lava tube! I couldn't handle it and insisted that we get off that hot lava. I just kept picturing the crust collapsing below us!
We then continued toward what was now a red glow near the hill ahead of us. As we approached, you could see lava very slowly flowing, moving at a turtles pace, but moving! It was the brightest colors and the heat was intense. We took a few pictures, but I tried to keep my distance. The fumes were strong and I was worried about breathing that in.
The hike out was even more adventurous. It was dark, we each had a flashlight and a headlamp but we really had no destination in sight. We knew there was a gravel road that paralleled the ocean and we'd eventually cross that. But other than a dull blinking light, the park really did nothing to make sure people found their way safely off that lava flow.
I highly recommend this hike, but it is not for the faint of heart. The hike was strenuous, you need to have sturdy shoes, and sturdy legs! Make sure you are comfortable walking over large boulders in the dark and that you have enough water and flashlights to last all evening if necessary!