Ok, I shall warn you up front, I am new to blogging but not new to traveling all over the world. So why, on day one, the day we are to fly out of Seattle at 1:30 did I EVER think it was 1:30 in the afternoon?? I think I will call it a "senior" moment. Not to insult seniors honestly. Especially because I am close to being one!! But yeah, this was a brain malfunction. lol Life happens.

But, so this can be a lesson to anyone traveling on a plane..... airlines, at least international ones, operate in military time. So, um, you might have guessed... yes, we missed our flight by 12 hours. Great. Sigh... my years of travel and the "I know what I am doing when it comes to traveling so don't worry"... all that was shattered. lol. At least my family was gracious and did not rub it in. The day to rest (now in Seattle not Ho Chi Minh) was still pleasant and relaxing and we still enjoyed it.

heavy sigh.

So much for a happy vacation? Good grief here we go already??!! This is what I was thinking. Is this a sign of what is to come?? What a way to start.
Heck no, it's vacation. It's all good. This is just a little bump in the road!! We were actually lucky. How can I be so positive and say lucky? Our first day in Ho Chi Minh City was a rest day. A good idea to plan a rest day with 14 hour time difference between home and over there. Plus we still got to rest and finish some last minute things. (after frantically arranging a new flight)

** side note, always try to plan a rest day or a later in the afternoon day for your first day abroad. You just never know what might happen. wink wink.
Our rest day was in Seattle starting with trying to get another flight for 5 of us. (Thank you sister in law for figuring it out first!) We missed nothing but rest for our first day. And like I mentioned, once figured out, we utilized the rest in Seattle quite well.
***Oh! Another side note. Eva Airlines offices aren't open during the afternoon/day so making any changes needs to be done before noon or after 9pm when they re-open.
Thanks to the Hilton for allowing us a late checkout on the room too!! That specifically allowed us to relax and regroup. yay and whew!

So the next morning...yes, 1:30 AM, we take off and head to Vietnam by way of Taipei, Taiwan. Just a mere 13 hour flight.
Yikes, how do you do 13 hours when airplanes are so crowded? I can recommend a late night with little very sleep the night before, a Benedryl and a glass of wine to help. Oh, and a neck pillow double-decker style with memory foam. They are expensive? Tell me about it. Especially when you buy one at the airport. But I highly recommend it. Did I say highly? Super highly...just do it. Just buy yourself one! You'll thank me later. (along with remembering the lack of sleep, the Benedryl or some other sleep aid). You'll sleep like a baby. And miss dinner. But hey! Weight loss day one of our vacation. Who can complain right? Ok, ok. It really is day two already. But let's move on from that.

Our new flight had the 5 of us scattered all over in middle seats. Everyone knows how fun a middle seat is and well, 13 hours worth sounded like torture to me so we begged the airlines to try to find something together. At the gate we were called up and told we could be together upstairs in one whole row.
Seriously giddy (I have always wanted to see what the upstairs is like on the big planes.) we are thinking wow! they are being so kind to us putting us in the upstairs. And a whole row together!! We hit the jackpot. Maybe missing our original flight was not so bad after all.
Well, let me shatter your dreams now. I bet you were all thinking wow that's totally awesome and cool. Upstairs sounds cool. Well, yeah, no. Upstairs here was not great luxury. Seats were narrower. Maybe because we are bigger people than most headed to Vietnam but still, I would not call us giants or huge or anything excessive. Our upstairs seats were at the bulkhead by the bathrooms, in smaller seats, low air circulation and crowded. If the day had not been so comical I might have worried and possible shed a tear. (not really... I added it for affect lol) But I will come back to the "lucky" part. I'm on a plane to Vietnam!! I'm on vacation, I'm with my husband and his brother's family, all of with whom I enjoy spending time, so yeah, it's all good!!

Side note number 3: So many worse things could happen in life that missing a flight, being a little crowded (even for 13 hours), or having the wrong neck pillow is still not so bad. Because bottom line, vacation is still vacation. Woo-hoo. Thank you Adventure Life...for what we are about to experience!




Want to Go?
continent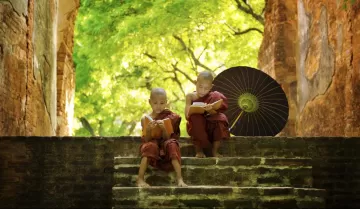 country