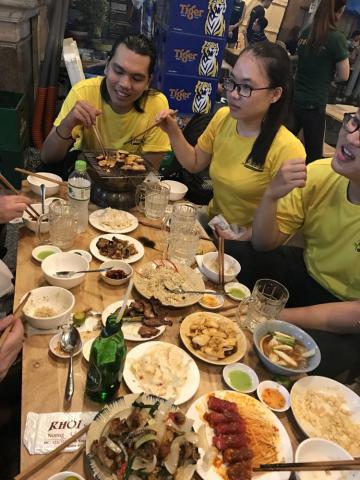 We are very thankful to Adventure Life and Khiri Travel for having our driver at the airport waiting for us! The culture shock is evident when you step out into a new country for the first time and do not recognize a single word. In Ho Chi Minh City our guide took us directly to our hotel and did a wonderful job of showing us landmarks along the way. These guides were so full of numbers and facts –it was quite impressive! The hotel that we stayed at was in a beautiful location over looking a river. I have to admit there was no thought about leaving the hotel on foot because of the multitudes of motor bikes streaming up and down the roads, which was intimidating at times. We considered it to be similar to a live game of Frogger. (For those who don't know the game, Frogger is a video game from the 1980's in which you, a frog, have to cross a road with cars and obstacles coming at you. A new version crosses a river and has logs and turtles.)
Our first excursion was what Khiri Travel called a Taste of the Night. It is a "motorbike street food tour." We were picked up outside our hotel on time by 5 young, cheerful guides. They were very thoughtful in that they brought some ponchos for us, not letting a little rain interfere with our fun. Only 3 of our group of 5 decided to go, but all 5 guides stayed with us regardless. Traffic was already intimidating, however experiencing it on the back of a motorbike made us realize the rules of the road are not the same in other countries. It added a level of excitement beyond trying new foods. We shortened our trip from the original 4 stops to 2 because we were all tired. The 2 restaurants at which we stopped served us unique Vietnamese foods. Our guides explained each courses significance and were thoroughly entertaining. I highly recommend the tour, the food was delicious, safe and the company was very much enjoyable.
Drivers were prompt, courteous, safe and thoughtful. Food was relevant, delicious, safe. Be hungry for this tour!