One part of the trip I was especially excited for was to ride a camel through the red dunes of the Sahara Desert. There are a few sand dunes in Morocco – we chose Erg Chebbi near Merzouga. It's a long 10 hour drive from Marrakesh through the Sahara. I wouldn't suggest adding the dunes to your itinerary unless you really want to ride a camel through the desert or you have 3+ weeks to travel and can spare four to five days to explore the Sahara.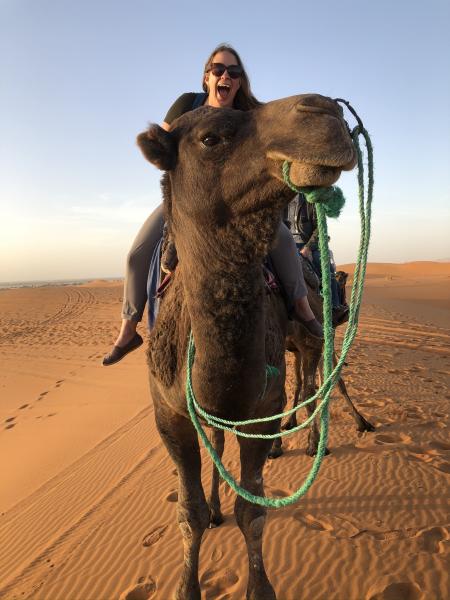 One thing that surprised me about this experience is that we weren't riding the camels independently. Strings of four to seven camels are roped together in a line, led by a gentleman walking through the sand. I have always heard that camels can be unruly, spitting and angry. Fortunately, my camel was well mannered, even sweet. In order to get on a camel, you mount them while they are resting on the ground. Then, they stand up with you on their backs.  It must take an incredible amount of strength to do this. From the rider's perspective, it's bizarre to be slowly thrown first backward, the forward as the camel stands up on its front then back legs.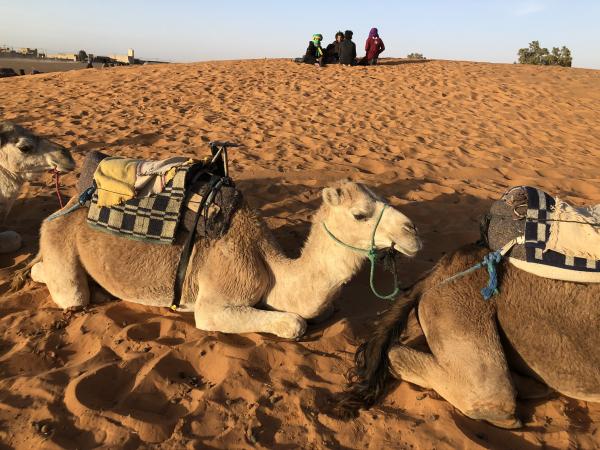 The actual riding is a bit harder than riding a horse. Camels don't have the smoothest gaits or flattest backs! Uphill is fine, but downhill is uncomfortable with the camel sliding through the sand. I would say that it was a more pleasant experience than I had expected, but not one that I would want to do for any length of time. We spent about two hours riding through the desert at sunset, which was spectacular. The only detractor from our experience was the large amount of unregulated use of the dunes. There were a huge number of camel outfitters and motorized vehicles. It definitely is not the serene experience touted in the literature. Get ready for a few thousand twenty-somethings on dune buggies and ATVs. Fortunately, the engine noise didn't seem to bother our serene dromedaries.