Your African cruise will take you to a group of ten small islands off the coast of North Africa called Cape Verde. These islands were uninhabited until Portuguese colonization in the fifteenth century. During the sixteenth century the islands became a hub for slave trade. As slave trading slowed few people came through the island until the nineteenth century when it regained popularity as a re-supplying center for ships. In the 1950's a movement toward independence from Portugal began to gain momentum. In June of 1975 the citizens of Cape Verde elected a National Assembly, which Portugal recognized as independent. Cape Verde hosted a one party governmental system until 1991 when it switched to a pluralistic democracy.

Nine of the ten islands of Cape Verde are inhabited. On your Cape Verde tour you will see Mount Fogo, an active volcano that lies on the island of Fogo. A small group of inhabitants live in the volcano's caldera and grow coffee on the its slopes. The islands Sal and Maio hold vast salt flats. Inhabitants of the other islands have developed sugar cane and banana plantations at the base of islands' mountains.

The climate of these islands is fairly moderate. Temperatures range from 75 to 85 degrees Fahrenheit. The islands are quite dry. The islands do have some scattered rain between August and October. These islands are very isolated so the animals that you see on your Cape Verde adventure cruise are likely endemic to the islands. Some of the endemic birds include, Alexander's Swift, Raso Lark, and The Cape Verde Warbler. The islands are also home to the Cape Verde Giant Gecko.

Cape Verde's culture is a unique fusion of rural Portugal and West African customs. This mixture comes out in all aspects of the culture from food, to dances and the popular activities on the islands.
Want to Go?
continent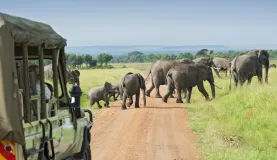 destination