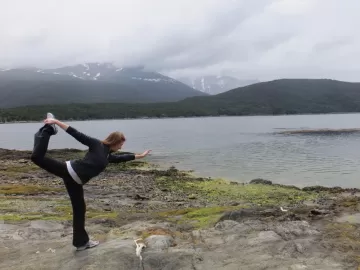 First , and probably only, day of cold and wind- in the 30's F and 15 mph wind Of course this is the day we went to the geothermal Deception Island. So that was no real issue. Saw fur seal, Chinstrap penguins, brittle starfish. We did have a challenging paddle out the Bellows. Becca is becoming a pro at paddling.
In the afternoon we hiked Half Moon Bay to see the colony of Chinstrap penguins high on the bluff. Hiding in their midst is a solitary Macaroni penguin. Weddell seals are there. The chinstraps were in their best form-swimming and playing in the water, stealing pebbles and hitting each other. What a way to leave the wildlife of Antarctica.
Today was my anniversary so we celebrated at dinner. Now off to the Drake Passage again. It started to snow then the fog rolled in. Will this be the bad weather for the trip?
62 04.8'S
59 57.1'W