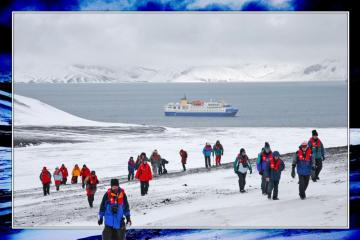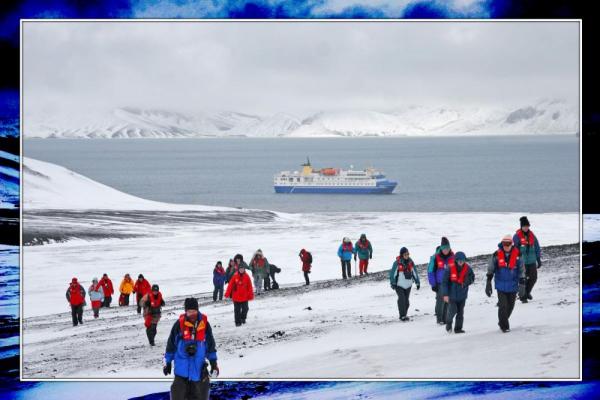 Note to self – don't repeat yesterday's crawling episode. In fact, don't repeat much of yesterday. Where are we? Are we out of the Drake Shake yet? No, but somehow I do feel better. Kristen is also looking a bit more lively today. Mike – he was never affected by the rolling seas, which I later heard were gale force 5 winds. Don't know if that is right, but it sounds utterly wicked. He gives credit to NOT becoming sick to NOT taking the medications that we did.
Who ever thought that attending a lecture could feel so good? Vertical feels very good today! All lectures are attended and enjoyed: Penguins, Whales, a slide show about the Conservation of Antarctica, and lastly a discussion about the Volcanoes of Antarctica, and then an evening film.
First glacier sighted at 4:48 pm today. We must be getting close! As I think about seeing a "glacier," I wonder how there can be a glacier when there is no continent in sight. I guess it must be so continuously cold that there are glaciers formed on the islands around Antarctica.
In the nightly recap we are told that the winds never got under 20 knots today. Now I'm not going to pretend that I even know how fast that is, I just know it is fast from my gut instinct! The winds did not do as expected, so there has been a change of plan. When we came through the gap between Robert Island and Nelson Island, they looked at Fort Point, but they could not get enough shelter there. So we went to Yankee Harbor, but found the winds at 40 knots. Half Moon Island was also too rough. So we finally anchored at False Bay, Livingston Island. Who knew? It is a good thing they wait until all of the "looking" is over to tell us the situation. It sounds like the Capt. Roder had a full day of looking for a parking spot at the mall during Christmas season shopping peaks, only with a little more danger at stake. Oh well, lectures were good and plenty of hot tea to keep warm. And did I mention . . . I am still vertical and it feels good!