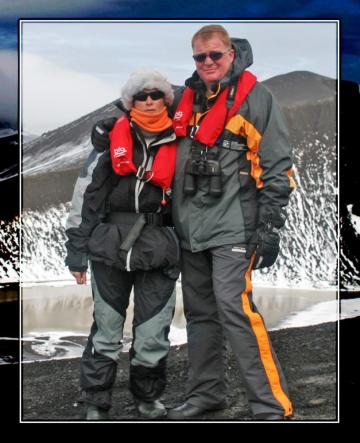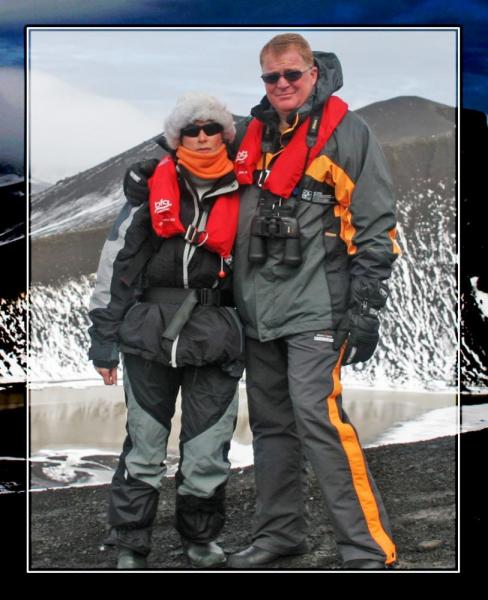 Barrientos Island is the location of our morning zodiac landing. If I understand right this island is part of the Aitcho Islands which were named by a hydrographic scientist, so they are really named "H.O." Islands. Before reaching the island we pass another one of those anomalies: an island with a glacier coming down its side and spilling into the ocean. How can one island be totally snow-covered to the point of compressing snow into a glacier and another island just minutes away have very little snow? I am going to have to research this when I get home.
This island visit is a combination marine biology and geology lesson. This is our last landing of the trip and I hope it is a great one. As we approach, a slight tint of green is visible. I think this is the first green land I have seen in a week. As we get closer the light gray-brown crest of the beach shows little dots of silhouettes of penguins perched on their rock nests. The greeting party is a mix of Gentoo and Chinstrap penguins. One peculiarity that we had not seen so far was penguin nest made into the depressions of the lichen covered whale bones scattered on the beach.
The 1.5 hour hike around the island first takes us across moss covered "soil" which has a similar feel to the alpine tundra of the Alaska regions. Everyone is asked to stay on the path so not to disturb the plants that must take forever to get started here. Little streams of snow melt meander through the rocky, mossy earth. The view from the top reveals the craggy little outcroppings around the edge of the island which frame the views of the snow covered islands in the distance. There is a rock formation in this view not far from the shore called the "Finger of Fate," which is a remnant of vertical cooled basalt in the shape of . . . you guessed it, a hand and fingers. Of course, there are penguins nesting all around it.
The beach just down from the Finger of Fate is littered with blubbery fat Elephant Seals. This is breeding season, otherwise they would be out to sea where they would spent 22 hours per day diving for food. Their special eyes double in size while diving so they can see their food. They are also molting right now, so they look a little worse for wear. Lying among bits of reddish kelp, washed-up krill, and broken whale bones are all sizes of Elephant Seals from small pups to the "Beach Master" male who can be up to 10 times bigger than the female.
As we return bank to the landing spot, we cross paths with some Southern Brown Skua that were nesting on top of some of the many rock outcroppings. I also see some Petrel that also appear to be nesting. At the top of the hill we take one more look back at the surreal image of the little streams making their path to the sea, the basalt remnants jutting up from the green mosses, and our little friends – the penguins.
This did end up being our last landing, as our afternoon trip turned out to be a zodiac cruise. There was an intended landing on an island that they had never been to before, Greenwich Island, but the sea was a little rough and not much exposed beach to walk on, so our zodiac passengers opt to view our last glacier and penguins via the zodiac. We also watch as several zodiacs of passengers make Very Wet landings. Considering that it is very cloudy, windy, and downright cold, I am glad that I am not wet.
The sea is filled with floating Painted Petrel. There must be 200 of them, and as something scares them, they all take off in flight at once. Quite an amazing site. We are taken fairly close to the glacier and can see straight into some of its caves. This sounds like a short trip, but this is the first time I have really been chilled to the bone on this trip and the sight of the Sarpik Ittuk coming into view is a welcomed one.
Back on board Laurie tells us that we have officially left Antarctica and are now again the Drake Passage (oh, yea! I remember the trip down here!) If we are able to keep up full speed, we will enter the Beagle Channel in 48 hours.