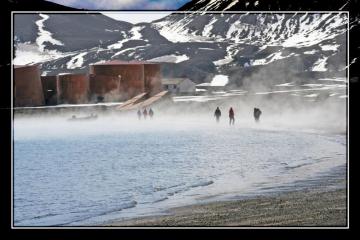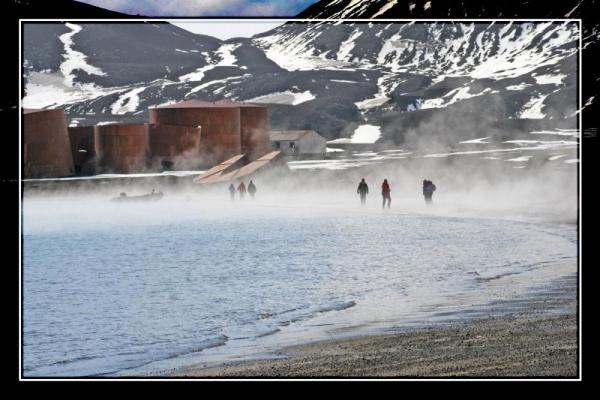 You can imagine my fear as I wake up this morning, knowing we are in the Drake Passage, which was not so kind to my stomach on the way down. But, to my amazement, I actually feel normal. In fact, the 3 of us all feel good. Maybe this is going to be a good day after all.
Because we are now in the vast expanse of open ocean, the activities involve lectures, looking out at the fairly rough sea, and food. Kristen and I attend the Albatross lecture alone. We have been seeing less and less of Mike, as he has made good friends with Captain Roder and is spending most of his on-ship time in and around the bridge. He has been given tours of the engine room and met most of the guys who keep the ship running. Very cool for him, because the lectures are not really his thing.
After lunch we attend a very interesting lecture from Brandon about Whales "From Harpoons to Cameras." We notice that the number of people at in the Lounge are only about half as attended this morning. As there is nothing to see outside, we wonder where they are. Even less people are at the afternoon movie, and hardly anyone shows for dinner. We finally figure it out, no one has jumped ship, but they are all Sea Sick! We learn that ½ of the passengers and even 1/3 of the crew is sea sick. How Kristen and I escaped its clenches this time, I don't know. As I am able to move around during the Drake Shake this time, I make some observations about the Dining Room: the tables are covered with the anti-skid rubber to "try" to keep the food and utensils on the table and the chairs each have tie-downs on the bottoms of the seats to keep the passengers from tipping over during the rough parts of the trip. Dinner tonight is served only to about 20 passengers.
One more movie before calling it a night.