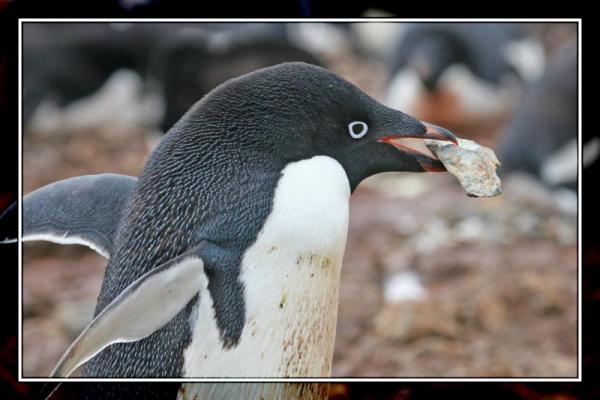 The entire day is spent at Deception Island, located in the South Shetland Island, and is actually the rim of an extinct volcano with a 500 meter section of the rim blown out of it. That would normally make for a 460+ meter opening through which to bring the ship, but if you subtract the fact that there is a large rock submerged in the middle of the opening and a shipwreck beside that rock, this narrows the opening to 250 meters. This narrow gap is called Neptune's Bellows. Before breakfast, all passengers emerge to the viewing decks to "help" the Captain navigate past the perils. Although I don't think any of us really saw anything, we all imagined that we could see the ship mast or the jagged profile of the looming hidden rock. Capt. Roder's skills brought us into Deception Island's calm waters unscathed. This is the most sheltered area in Antarctica.
Although it is labeled "extinct," since its last eruption in 1970, there are still active hot spots. I wonder if the British scientists whose research station was damaged from the eruption would consider it extinct.
Early this morning I saw penguins "flying." I didn't know that as they swam through the water, that they actually leap, similar to dolphins. This is very exciting and beautiful. It was so overcast and rainy that I don't know if the photos are going to be very good.
Our first Expedition zodiac landing is at Telefon Bay, which was the site of the last eruption. The zodiacs are a blast, and it's no big deal when you have to step out into a few inches of water because the boots that are issued on the ship are totally watertight and warm. I am glad I didn't use my own boots. The cruise Geologist, Malcolm Laird, leads the hike up a fault line. I can't see any line, but what I do see looks like the moon (not that I have actually been to the moon!) Rolling hills of a stark black ash & lava mix, covered with anywhere from just a dusting of snow to a meter of snow taper down to meet the sea where the Sarpik Ittuk sits waiting our return. She sure looks pretty from here.
Since Telefon Bay's excursion is supposed to be geological, not a wildlife visit, I guess someone forgot to tell the 2 Gentoo and 3 Chinstraps that we saw here.
Whaler's Bay is our afternoon excursion, also located within Deception Island. Around the turn of the 20th century, it was a favored place of the whale trade because of the sheltered location, but abandoned by the Norwegian whalers in 1931 due to a slump in the price of whale oil. The zodiacs take us to the "steaming" beaches. We are told that Antarctica proper does not have any thermal pools, but at Whaler's Bay you can dig a hole in the beach pebbles and take a dip, if you dare. It looks warm and feels warm to the 2 square inches of my fingers that touch the water, but I bet the more body parts that are exposed to the water, the cooler it feels!! If I come back again, I do want to try it.
The whalers that last used this area left a plethora of "artifacts" ranging from dilapidated wood building with rusted tin roofs, huge rusted oil storage barrels the size of grain silos, and even closed-top wood boats that carried the whale oil.
As a side note, I walked into one of the storage barrels and found Kristen singing our National Anthem to the top of her lungs. It sounded pretty good with her voice resonating off of the hard steel walls. I think I caught a small part on video to use as blackmail later.
A mudflow caused by heat of an eruption has since covered over the Whaler's Graveyard, yet the whole beach feels like a graveyard of things long since forgotten. Half-standing buildings look out sadly into the gray as they waste away and whale bones bleach white from the sun.
Neptune's Window is a short hike from the beach. Once on top the view out the "window" reveals dozens of beautiful painted petrels – our first close look at these birds. It is believed that from this location Antarctica was first spotted by a sealer, Nathanial Palmer, in 1820.
I opt out of the longer Nipple hike to enjoy the few scattered penguins and Weddell seals sunbathing. Their little faces are so cute, and with the telephoto lens I can take just portrait shots of their faces. One little guy is spotted. Kristen meets me after the hike and poses uphill from my new-found models and also finds some nice whale vertebrae to use as props – it must be the archaeologist in her that draws her to bones.
Deception Bay's history has changed from Whaling Station, to Research Station, Spy Headquarters, more scientific research, and now its use is solely tourism. The Whaler's Bay site has been designated as a Historic Site under the Antarctic Treaty and will remain as it is for tourism and scientific research of the power of volcanic eruptions.
Our zodiacs take us away from the steamy beaches back to the ship. I bet this is the last warmth we "see" for a while. It was a great day with nice sunshine. Great for photographs and very welcomed after 2 days of clouds and blowing, freezing rain. We make it back out of Neptune's Bellows, no problems. As we leave Deception Island, solid white mountains can be viewed, a sign that the Antarctica Peninsula is close.
After dinner while the sky still had a little bit of pink and yellow left in it, we saw our first Iceberg. I was an old one that was well-worn and shaped somewhat like a turtle. There was plenty of penguin life aboard for us to enjoy the view.