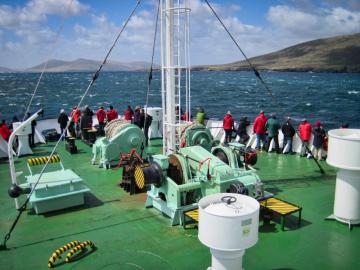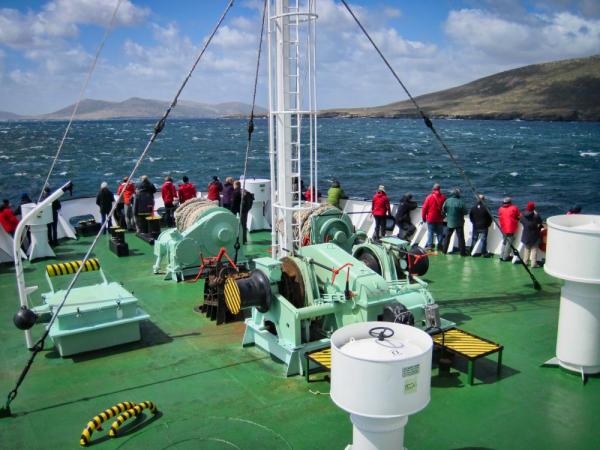 After several days of travel adventures from the US, including a major plane delay mishap, I finally arrived in Ushuaia and prepared to board my home for the next 18 days, the Ortelius. The stress of simply making sure I didn't miss that boarding time was tremendous. You'll hear stories of internal Argentina flights canceled for no reason, luggage restrictions, weather issues, etc., but my only issues were in the dear old US, in DC in fact, so be ready for the unexpected, but enjoy the journey, it's part of the fun! I was so excited for the adventure ahead!
I traveled alone, so there I was, dragging my roller duffle and backpack behind me, making the long journey down the pier. Out of nowhere, the two friendliest people I've ever met just appear, strong Australian accents in tow, and we figure out we're all on the same ship. Instant friends, a mother/daughter duo. We took our obligatory photos by the ship then walked the ladder stairs to our new home.
I chose a quad room for the obvious financial reasons, plus the social adventure of it all, so I was pleased to be the second to arrive in my room, securing a bottom bunk. The room was clean and effective for our needs, though squeezing four 30/40-something females and their winter luggage all together certainly makes for fast friends and a learned art of compromise.
Everyone was delightful and we all hit the top deck to wave goodbye to Argentina. You don't go to Antarctica without camera equipment so that instantly bonded the group, talking lenses and gear selection criteria. I loved that the US was a clear minority. I was the only American girl. We had ~50 passengers, from all over the world, and an eclectic crew equally diverse. Generally folks were quite well traveled as well, which makes for commonalities and mutual respect from the start.
The rolling of the ship started during the night. I was one of the lucky ones, I loved every roll, jumping for fun when it got particularly aggressive, but probably 1/3 to 1/2 of the passengers had pretty severe seasickness, so come prepared. If you think I'm kidding, note there were barf bags (pardon the term) positioned on the railings throughout the ship every 10 feet or so. They were utilized... for me, however, wheeeee!!