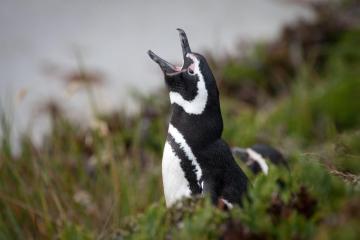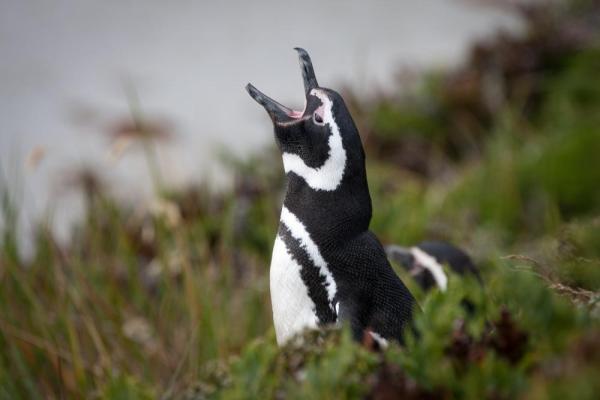 On this morning the weather had turned again and was quite rainy. We still went ashore at Whistle Cove where evidence of reindeer lingered and a wide variety of wildlife fought the weather. Some elephant seals expressed their dislike but somehow they're still just charming. I had a personal setback on this beach. Cameras were challenging in the rain and I had to decide what to do as the rain continued to fall at a more furious pace. Equipment was getting wet, despite all precautions, and I decided to put it all away in my waterproof pack. However, once wet, it's now trapped with moisture in a non-breathable space. The alternative of just letting it get soaked wasn't an option either, so really no good option.
Others struggled as well, and when we got back on board I discovered my camera was kaput, no reaction whatsoever. To add to the problem, wet clothes now covered the rooms and hallways trying to dry out, so humidity on board was up. I laid everything out open to dry and tried to think positively, but was honestly very upset. I had the backup camera body but the vast majority of my storage was in the large body format so I would be limited from here on out, and we hadn't even reached Antarctica yet. I share this emotional journey as I know others who love the art of photography can relate.
Most of the group went for a short hike early that afternoon but I stayed on board and was treated to beautiful views as we made our way among harbors and whaling stations until we reached Grytviken, our meeting place for the hikers. On land, we saw Shackelton's grave and even drank a shot of rum for him, sharing a bit on his grave just prior. The elephant seals outside this settlement were fantastic, surrounded by lush green grass. The buildings were wind and salt sprayed giving them character and charm, and the few people who lived there (maybe ~20) were so welcoming! Our crew invited them all back to Ortelius in their harbor for a BBQ and dancing late into the cold night on the top deck. All the Russian crew who were typically elusive came out in full force, teaching us all some fabulous moves. It was fascinating to hear the tales of the locals and how they ended up on this island on the fringe of the world.
Finally, at the end of the night after much turmoil, my broken camera came back to life! Will wonders never cease....?