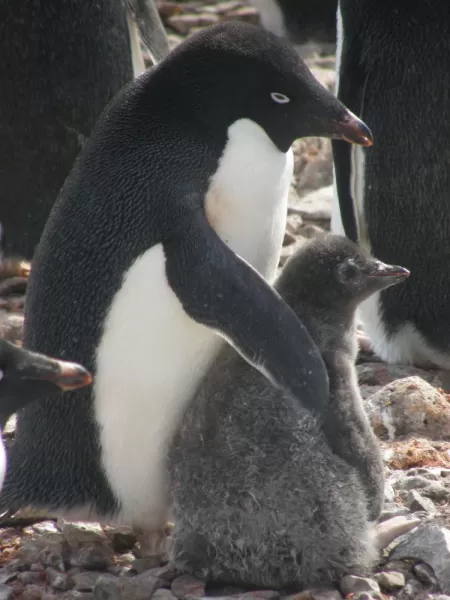 Today we would push off from dock and received some welcome news upon waking: Anne's luggage had made it to Buenos Aires and was likely to be on a morning flight to Ushuaia. This allowed us the freedom to spend our final half-day on land doing all-important last-minute knick-knack shopping, instead of trying to recreate her gear at the local over-priced outfitters. The overwhelming theme of the souvenir stores of Ushuaia is the penguin: you can get anything you might ever need or want emblazoned with this ubiquitous feathered friend. While fun at first, after the first row of stores we quickly found it to be a bit overkill, even for someone like myself: a girl with an admitted penguin fetish. More our speed was the local artisan market down by the water: jewelry, knitted items, carvings, etc. I bought 4 necklaces over 2 days and still regret not buying more. But then again, I also have a necklace fetish.
Anne's luggage arrived within an hour of boarding. Lesson #2 (after the blizzard) in arriving well in advance of departure.
And then we boarded the boat and it all started to sink in. My heart raced a bit as somewhere amidst the quick tour of the boat and the 'welcome aboard' happy hour, our ship pushed off from the dock. Standing on the top deck of our ship, we cruised down the Beagle Channel and spotted birds as they passed by, including our first penguins, Magellenics. And then soon enough we left the mainland behind. We were really going to Antarctica.