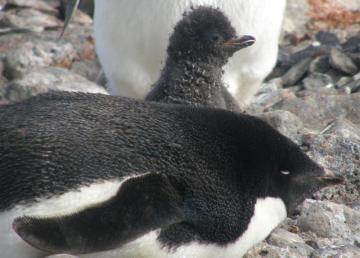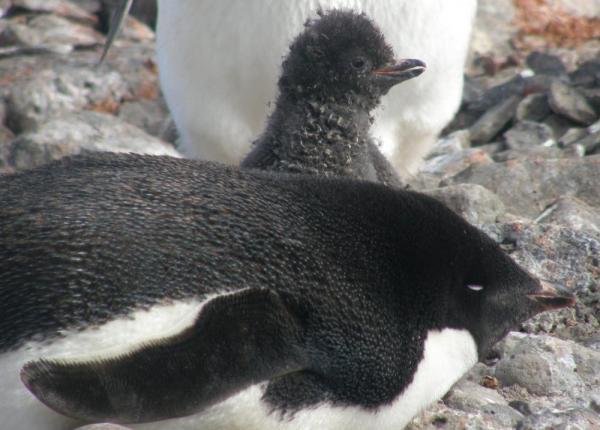 Land ho, the Falkland Islands! Ten people to a zodiac, we departed the ship for our first excursion on West Point Island. Antarctica it was not. The green grass and sunny skies made us overdressed in the orange wetskin suits and rubber boots we wore for all of our wet landings. Nobody would mistake us for locals.
The 2 km hike was refreshing after a day or two at sea, but the payoff was even better. Just over the hill and around the bend lay a mixed colony of black-browed albatrosses and rockhopper penguins. With chicks, probably as young as two weeks. Swoon. If I appeared to be an easy target back at the distant condor sighting in Argentina, you can imagine that my heart almost stops just thinking about this, unable to bear the unperceivable cuteness of it all. Packed into grassy tussocks, we circled each group taking photos, reveling in our good fortune, and trying to keep our wits about us enough to maintain a respectable distance. And not hug the penguins. I must keep reminding myself not to hug the penguins.
If the colony was the reward for the hike in, the walk out resulted in a more conventional, albeit unexpected, prize. Upon return to our docking area, we found ourselves treated to the hospitality of the island's sole inhabitants, Lily and Roddy. Perfect British hosts, we drank tea out of dainty cups and saucers and quieted our grumbling stomachs with a spread of cakes and goodies. The lemon cakes were to die for. A stroll through their well-appointed gardens rounded out the visit, making a great morning even better.
Back on the boat, the captain ferried us off to our next location while we relived the morning through the instant gratification of digital photography and ate a proper lunch. And suddenly it was time to gear up and head again, having not yet come down from our prior face-to-face penguin/human meeting.
No hike in was needed for Saunders Beach, as penguins busily crossed our paths (clearly on their way to very important business) almost as soon as our boots hit land. The expansive sandy beach was completely unoccupied by humans, but full of life in the form of gentoo penguins, king penguis, rockhoppers, and magellanics. The braying gentoos formed noisy rookeries full of activity and we occasionally had to halt our travels temporarily to allow one or more to pass by with their jaunty waddle. The handful of kings were more sedentary and, well, I've gotta say it: regal. The rockhoppers performed their namesake rock-hopping, sometimes right into the water for a swim. And the magellanics were a kick peeking out of their burrows and made for an unexpected coupling with the sheep that grazed the grassy hillside. We hiked up hills and around bends and down to the shoreline and back again. The scenes were ever changing and hard to tear yourself away from if not for the expectation of missing something new on the next stop.
Back on the ship we were worn out! Sleep came fast and hard, refueling our weary bodies and racing minds for the next day's adventures.