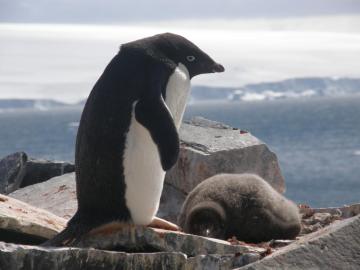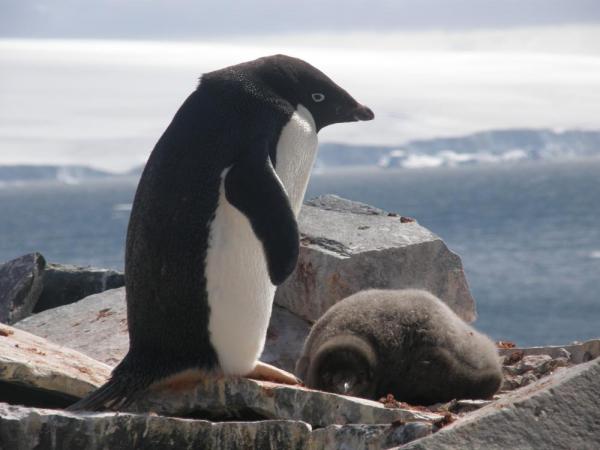 Gold Harbour would be our final landing on South Georgia Island and it was as spectacular as the first, in its own unique way. The beach front proved too surrounded by obstacles (water, cliffs, elephant seals) to afford a proper hike, which made for a nice excuse to sit and observe. The king penguins lined the beach and stream, and massive elephant seals looked like giant mounds splayed across the sand, until a couple of males set off to spar like two sea monsters rising to battle. A smaller gentoo colony occupied the cliffs behind the kings, and made occasional treks down the hillside and over the beach to the water. As a gentoo enthusiast, I found myself a spot in the middle of their path, sat down, and became part of the landscape. The gentoos became accustomed to my presence and headed right for me on their quest to the sea, veering off only at the last minute to avoid a head-on. Sheathbills, which are white chicken-like scavenging birds, would occasionally walk over and peck at my boots, looking for something to eat. Amongst all of this, I became enamored with a gentoo named Bo, who claimed a tussock mound to himself, and fought off every beast who came to challenge, even those several times his size, like king penguins and fur seals. I sat in this spot for well over and hour and took a million pictures. No, two million.
I won't pretend it was all fun and games though. The mood was broken slightly by some Circle of Life sadness between a king penguin juvenile and a skua. That's all I'll really say, but nature is nature.
In the afternoon we took a zodiac cruise of Cooper Bay, our last (and only) chance to see macaroni penguins. We chose the zodiac led by Steve the Bird Man, and spent an especially long time cruising the cliffs where they nested to get better and better looks. Being the 'birder' boat, we also chased down the South Georgia pipit, which is a bird that, in fact, only a birder could love as much as our boat did. It's a small brown sparrow-like jobbie that has the distinction of being the world's southernmost passerine and an endemic to the island. Bird nerd heaven
And then we were off, leaving South Georgia Island behind. Our captain took us through a special passageway, Drygalski Fjord. It was full of glaciers and ice, quite cold but quite beautiful. And a harbinger of what we would witness as we headed south to Antarctica proper.