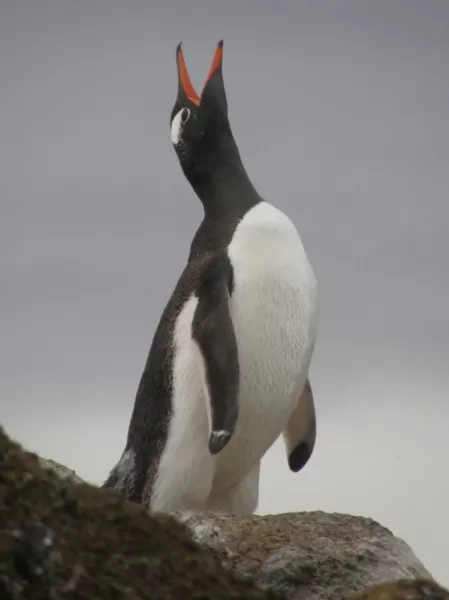 The main attractions of our morning zodiac cruise of Cierra Cove were ice and seals. Though the crabeater seals were more plentiful, the leopard seals stole the show. One particular individual was stunningly stretched out on his or her own piece of ice and I photographed it from every angle like it was a contestant on America's Next Top Model. Once again, the weather was perfect and the sun played off all of our subjects - seals, penguins, snow, and ice - for maximum effect.
Arriving back at the ship, the sight of our chef up on the top deck could mean only one thing: barbeque! Barbeques were always festive occasions and welcome opportunities to mingle. And with the weather as it was, it was a perfect day for it. A group of humpbacks were kind enough to treat us a show while we were all out on the top deck, and the captain circled the area to extend our stay with them. I knelt down by the rail so others could see over my head and one of the ship's crew came out came out to bring me a rug so my knees wouldn't get cold. A small gesture, but it's these kinds of special touches that I still remember 2 years later.
The mood kept up with an afternoon stop at Portal Point, which was basically a big hillside covered not with penguins for a change, but just snow. We hauled up the small hill in our orange wetskins, and for the first time, just...played: snowball fights, snow angels, and general frolicking were the order of the day. I took some direct hits at close range, but with the sun shining down on us and our first chance to cut loose, I barely held a grudge.
As if the day wasn't full enough, that night we camped right there at Portal Point. The staff spent much of the day telling us how miserable we'd be out there in the cold in effort to talk some of us out of going (some gear had been held up in customs so there were more people interested than spots available). My advice? Don't be scared off! I understand camping in a pile of snow is not everyone's idea of fun, but if you have the inkling, go for it, it's an experience worth having. It will also likely (hopefully!) be your only opportunity to dig your own grave, as the first order of business was to dig your own hole in the snow to sleep in, to provide shelter from chilly winds. And then we were on our own until morning, picking up the frolicking where we had started earlier, until finally realizing that the sun was never going to provide us a stimulus to go to bed by setting. It was such a sense of freedom to be running around with land under our feet and nowhere to be, that it was hard to call it a night. Finally at about midnight, the sky turned a brilliant pink and we climbed into our bivvy sacks to hunker down for the night underneath layers of clothes and equipment. It was a bit of a challenge to transform from the snow-proof outer layers of the wetskins to the cozy inner layers of fleece, toe warmers, sleeping bag, etc., but once the work was done I was fairly warm and drifted off to sleep quickly. I woke up sporadically through the night and felt some coldness where my body touched the ground, but overall slept sound and snugly. In my little snow grave in Antarctica.