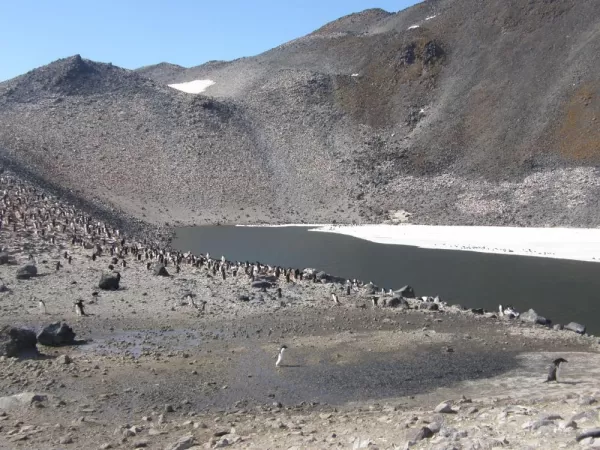 The old whaling town of Grytviken is the height of civilization on South Georgia Island. We started our day there at the small cemetery that held Shackleton's tombstone, where following tradition, we toasted him and poured the rest of our drink over his grave. The ground was moist with Jameson's that morning. Splitting up, some chose to hike up to an albatross colony, while Anne, Erin, and I explored the town, which was still inhabited (though sparsely) and consisted of a working post office, museum, and church, along with the remnants of the whaling life that had passed there. Dodging seals, we walked around the harbor as arctic terns sailed by and young calves barked at the disturbance. The museum provided the last retail opportunity for most (whale tail necklaces were the top pick), while my prized possession was once again purchased at the post office: a limited edition signed print of a Giant Squid battling a Sperm Whale, which had been reproduced into my favorite stamp ever (also purchased here).
Sailing around the island over lunch, our afternoon excursion was on Gadthul. This time some of the group kayaked, while Linda, Brian, Mary Ann, and I hiked up a hill to discover nesting colonies of gentoos, reindeer (exotic to the island), and giant petrels. We hosted some South Georgian officials on our hike (who had come aboard the ship to do an inspection - they take their environmental stewardship very seriously and right they should) and learned about their upcoming efforts to rid the islands of invasive rats, which are major threats to seabirds and other native wildlife. (And a little too close to my day job for comfort.)
Back in Grytviken to drop off our visitors, the weather was perfect and we hosted a barbeque on the deck for the whole city, including the researchers, government officials, and residents. To be honest, I barely noticed our shipboard population bump up, but were pleased to offer them a change of scenery and some excellent food and drink. In return the researchers gave us a talk about their research right up until the weather changed and the captain informed us that the residents best leave now, or join us for the remainder of the cruise. We all waved goodbye from the deck as the staff whisked them back to land.