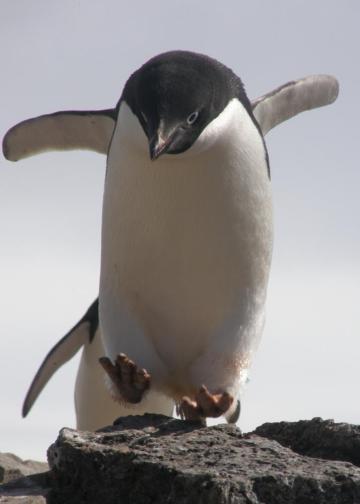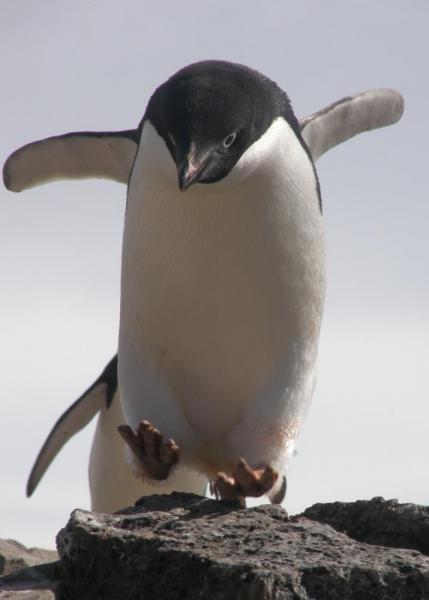 After yesterday's excursions to some of the Falklands least-inhabited destinations (by people, anyway), today's visit to Stanley provided a sharp contrast. Stanley is a small city of colorful houses, shops, museums, and war memorials. And the occasional tribute to Margaret Thatcher, who successfully defended Great Britain's turf here against the Argentinian invasion in 1982. We strolled around town at our own pace and patronized the shops selling wool items, and, of course, penguin-related gear. A favorite stop was the post office, where a wide selection artistic plates of stamps depicting the history and wildlife of the Falklands, South Georgia Island, and Antarctica made unique souvenirs.
Part of the group kayaked the waters around the island while us landlubbers hiked Gypsy Cove, an area where wildlife thrived due a particular problem with the real estate: old land mines from the war were still being found and detonated as recently as the previous year. Magellanic penguins, too light to trip the mines, burrowed in the grassy hills and fished off the beach, while humans watched them from a safe distance on the trail. And that rounded out our experience at the Falklands: two days of perfect weather and cooperative wildlife to tide us over for our journey through the Drake Passage to South Georgia Island.
But just to hedge my bets, I also scheduled myself a massage for that afternoon. Because when else am I going to get spa services in the Drake Passage? Holy wow. Two years later we still rank all massages against that one: ''He was good, but he was no Keith.''
To ring in the New Year, our gang of 7 gathered for dinner, a special feast prepared by the chef. The staff had planned ahead and dressed up and we followed suit as best we could, though often our version of fancy turned out to be ''clean!'' or ''not yet worn''. We hit the wine list hard, and managed to coax each other into staying up for the party in the lounge. As a group. we celebrated the many nationalities that were sharing this night together, with each performing an impromptu song that somehow represented their country of origin: Germany, Hong Kong, India, China, Japan, Russia, Australia, England, Canada, and the U.S.. There was some real talent on the ship. Which made the U.S.'s rendition of the Chicken Dance, in which I participated, even more pathetic. But the Canadians rounded out the night with comic relief, as they hummed the theme from the Canadian Broadcasting Company's hockey night broadcasts, led by Ian the Bartender. A trip to the bridge to see the Southern Cross, a champagne toast, and dancing into the wee hours of the morning rounded out the evening. It was a New Year's Eve unlike any I'm likely to experience again.