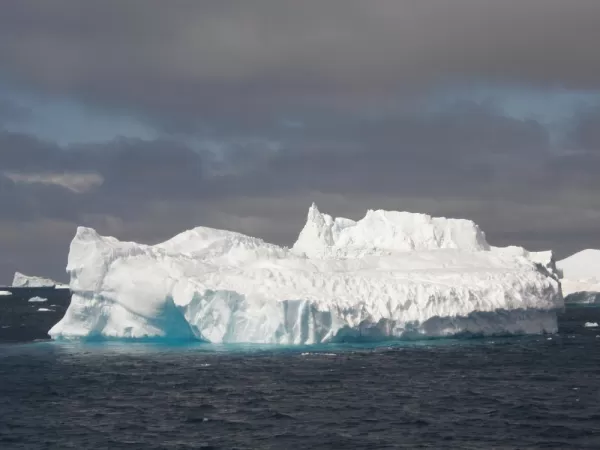 Every species of penguin deserves its own stop to check in on a giant breeding colony, and today it was the adelie's turn. Paulette Island, in the Weddell Sea, just off the Antarctic continent, was spectacularly overrun with them. Going about their business and crossing our direct paths with hardly a care of our presence, these expressive brushtails proved that it would take a long time before I got tired of this sort of thing. The rookery was so huge that it put in perspective all of Historian Dave's tales of explorers who got marooned on southern islands and ended up killing and eating 2000 penguins to make it through the winter. While the thought of eating even one penguin is not high on my list, I must admit that a 2000-penguin buffet would barely make a dent in this particular colony. Now protected from that kind of snacking, of course, the adelies now build nests and roost in the remnants of those past visits.
And then later that day, the moment we had all been waiting for: our landing at Brown Bluff, where we would first set foot on the continent on Antarctica! Almost two weeks into the trip at this point, it was really exciting to have just now reached this landmark, resulting in many photo ops and talk of the 'Seven Continent Club'. As might be imagined, the continent proper was mostly barren of vegetation, unlike the lush hillsides of the Falklands or South Georgia. We hiked up the hillside and took in the view with the knowledge that we had reached our ultimate destination. And, of course, we took in the penguins. Always the penguins.
Later that night our group celebrated with a surprise fake birthday dinner for me. As mentioned earlier, the trip itself was an extravagant present to myself for my 40th birthday, which was about a month away. My wonderful friends had planned this celebration for me well before the voyage and chose to hold it on the night we made landfall on Antarctica. And even though I thought it was curious that the staff - who apparently were in on it - had suddenly been wishing me a happy birthday all day, I NEVER caught on. Not until the moment that they sat me down at the table made up with special plates and an inflatable penguin, all carted all the way from the U.S. by my friends. As with all of the best celebrations, there was a tiara and a sash, and the staff provided a cake and hospitality bags. I even won the impromptu poker tournament up in the lounge that night: perhaps an unusual 'talent' for Miss America, but just about right for Miss World Traveler.