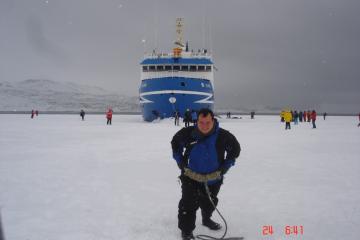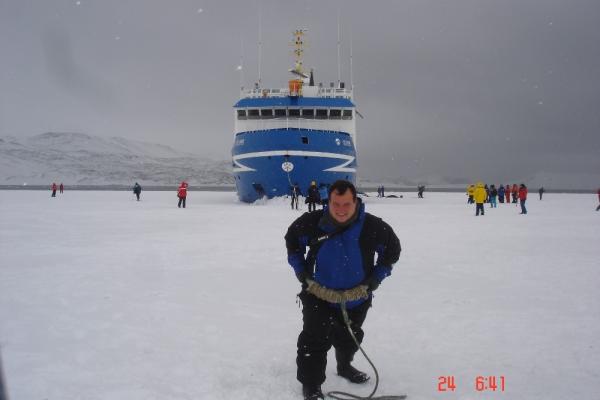 To say I was able to spend Thanksgiving Day in Antarctica is one thing, but to say that I spent Thanksgiving Day eating amazing barbeque on the deck of our ship with cool weather, clear skies, and an amazing view of the continent is special. The only thing that could have made this day any better would that my family and friends could have been with me to share this experience. Note: The Expedition Leader was not too happy when I asked if we were going to have barbeque penguin as a part of the meal. After dinner those passengers who were going to do the over night camping and skiing departed the ship to spend the night sleeping on the ice. As stated earlier the situation can change instantly and that is what happened. In a short time it went from nice weather to bad weather and from open water to ice-choked water, and there were concerns that our ship was going to trapped in ice. Looking at the rapidly deteriorating weather the Captain made a command decision to bring the campers on board so that we could sail away before getting trapped and having to leave the campers. During the recovery mission the ice got thicker and one of the zodiacs got trapped with three passengers (one being a 70+ year old Japanese lady) and one crew member on board. For the next three hours they endured the harsh elements and the fear of getting crushed by the ice before they could be rescued. In a stunning feat of seamanship the Captain was able to maneuver the
ship through the ice to rescue the zodiac. The rest of the evacuation went off without a hitch and we safely sailed away 100 km north. Our sister ship was not so fortunate. The ship (The MV Explorer) hit a growler (A submerged iceberg barely visible above water) and sank. That day it was -5° F with a sea temp of 30° F and it would have taken just moments for those people to die had the weather or seas been bad. They definitely had the Big Guy upstairs looking over them
because they had time to get off the sinking ship, the seas were calm, the skies were clear, and they were rescued within a very short time. This was a sad moment, but thankfully not a tragic event because all were rescued. This event and our small rescue hammered home the point that travelling to Antarctica is still very dangerous and not to be taken for granted. from people I meet on board, and a few interesting people After the Oceanities Team had theirs showers and a warm dinner we had the chance to talk over a few drinks at the ship's bar. During our conversation one of the American girls was telling us about her birthday surprise. Her birthday was a few days before Thanksgiving and she woke up to a nice surprise. The Oceanities team has a ham radio so that they can keep in contact with the American and Ukrainian base for weather updates, safety reasons, and for someone to talk to. Well, the Ukrainians found out that it was her birthday and they called to sing her happy birthday, and then surprised her by delivering a fresh-made birthday cake. What makes her story so extraordinary is that these Ukrainians did not just walk next door to deliver this cake. They had to make an extreme journey that was very dangerous which could have cost them their lives. The three men picked to make this delivery had to spend six hours in a Zodiac boat battling the ultra cold, the ice flows and rough seas just to bring this cake to her. Remember that The
Vernadsky Station and that region have the honor of having the reached coldest temperature in the world.
Note: Having now been to Antarctica I think it would have been easier to climb Mt. Everest than to deliver this cake.
Now, you may ask why these men would put their lives at risk just to deliver a cake to a female. I call it "The Wintering Over Effect" – living in close quarters with a group of men for over nine months with no women, no sun (24 hours of darkness), no heat, very bad home-made vodka, totally isolated, and cut off from the world will make men do crazy things. So when this opportunity came up to make this trip I can only imagine what contest the men at Vernadsky Station came up with to pick those who would make this trip. As we were talking about it many ideas came to mind – like the last one left standing naked in the cold or the one who would eat a penguin raw – you get the idea. But three lucky men were picked to make the trip – I hope it was worth their while.
During my trip one of the passengers who grew up in East Germany was telling us his story about the fall of the Berlin Wall. He lived only 30 miles from West Berlin (but before unification he may as well have been living 10,000 miles away) and he had found out that his favorite band was playing in concert on his 18th birthday in West Berlin. His dream was to see this band in concert but he knew that it was impossible because of The Wall. The day came and on his 18th birthday he was sitting in his room wondering what the concert would be like and he got a little sad. Well, an hour or so later his parents yelled for him to come down, and crying for joy, they told him that The Wall has come down and that this is an historical event – Germany is once again united and we are free. Then without missing a beat, "Out of the mouths of babes" he said to his parents, "So, can I go to the concert?" I can only imagine what his parents were thinking, but they let him go. On his 18th birthday he was able to cross into West Berlin to see his favorite band play, and to put the icing on the cake, the West Germans gave each East German $100 marks when they crossed over. With the $100 marks he was able to buy a ticket, the album, and a t-shirt (which he still has today). After he told us the story we asked him what was the name of the band. He then kinda off-handily stated that we do not know it so it does not matter. When we pressed him he finally told us the name. The name of the band was Erasure. You should have seen the look on his face when I started to sing (very terribly mind you) a few notes of their music "That you give me no, That you give me no, That you give me no - Soul, I hear you calling - Oh baby, please give a little respect to me."
Also on board we had a group of Japanese elders (two ladies and one man) in their mid 70s and they were hardcore. The two ladies were as fit as a U.S. Army Ranger and it seemed that nothing fazed them. My first encounter with them was when we were climbing up a glacier, and being dog tired, I just kinda sat down and was not going any further, until I felt someone tapping me on my leg. When I turned around it was one of the Japanese ladies shooing me away to move over because I was slowing her down. It was amazing how fast I made it up to the top.
Theseladies went on all the long-range cross-country ski treks and were always in the thick of things. They even took the polar plunge (more on that later) and received a standing ovation when it was announced that they were the oldest to have taken the plunge. The Japanese man had earned the nickname of "Mr. Sony" because he recorded, taped, and filmed everything (even the movies that were shown on board). Even the Japanese Ladies took to calling him "Mr.Sony."
An Animal Story
Of the many hours we had to walk around and view the wildlife and scenery I spent over an hour watching a wimpy sorry male penguin trying to build up the nest that his partner was laying in. These penguins build their nest with stones and in order to build they steal each other's stones. I noticed that this male would go off to steal a stone for his nest and as soon as another penguin looked at him (let alone snipped at him) he would run away squawking and crying. Not wanting to appear to be a wimp to his partner he would go back to the nest (empty beak) and go through the motions of placing a stone on the nest, even though he did not have a stone, in order to fool his partner into thinking that he returned with a stone. Of the very few times he did manage to steal a stone he would waddle to the front of his partner and do a big dance and sing. Maybe we should have eaten this guy for Thanksgiving Day.