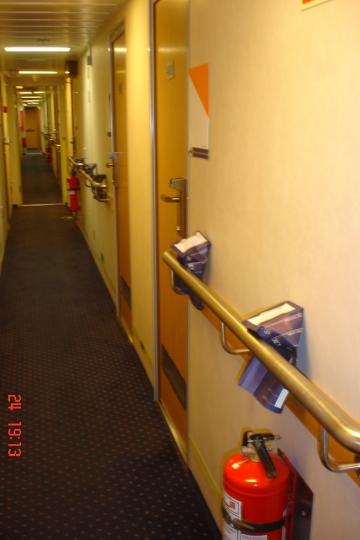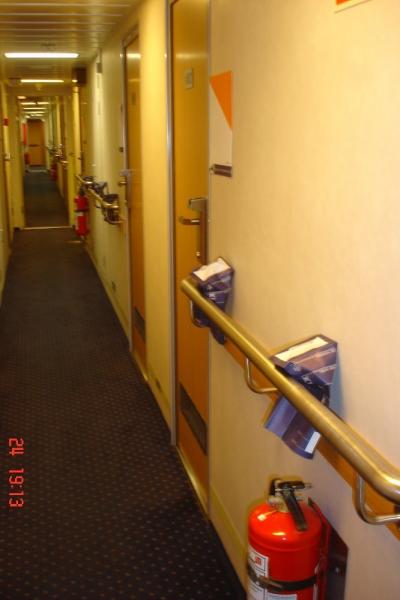 Just as ancient mariners and today's mariners have a ceremony for crossing the equator, there is the same ceremony for those who reach Antarctica, THE POLAR PLUNGE. The day finally came that I had been dreading even before I started my journey. Would I have the balls to do this? I cannot even jump into a lukewarm pool without spasing out and I will go days without bathing if I cannot take a hot shower – yet I am going to jump into a freezing hell. This time-honored event offered to all those who journey to the Polar Regions was about to begin and I sat on bunk trying to find a way out. None could be found, so off I went with just my bathing suit and t-shirt to wait my turn. As the end drew nearer I started to understand what a person must be going through while they are walking to the gallows. But I was in line and there was no turning back.
That day the air temperature was below zero and the water temp was just below freezing. As I neared the jump point the arctic cold blasted my body almost sending me into flight mode, but I stood firm and rigid yet shaking uncontrollable. I continued moving forward to my impending doom. At last it was my turn. In the freezing air I stood (getting hooked up to a safety harness so I could be pulled back in the event I have a heart attack or pass-out) out on the gang plank thinking that I was in a pirate movie being forced to walk the plank. But this was not the warm waters of the Caribbean, this was Antarctica. With no options out I closed my eyes shouted "AIRBORNE" and jumped into the frigid depths of the Antarctic Ocean. As the coldness penetrated my soul I felt the hands of the Ice Queen trying to grab hold to take me down to the frozen depths, but she would not claim me as a prize. What felt like an hour in the water was only about two seconds and they did not need to pull me back in. When I got out I was shaking so bad I could not get the shot of vodka in my mouth and they had to pour it down me. Just after I jumped the 70-year old Japanese ladies jumped - Hard Core.
The next to last stop was Deception Island, the largest activevolcanic island in the South Shetlands. After sailing through Neptune's Bellows and entering the caldera of Deception Island we had a rare opportunity to walk on sea ice. Turning the ship, the Captain drove it straight into the ice and after the third attempt he was able secure our ship firmly in the ice so that we could leave the ship and walk around. It was a wonderful experience and only the third time out of very many trips that opportunity has been made available. And we took full advantage of it. The next morning we were heading back home recrossing the Dreaded Drake Passage.
Note: It was heard said that the Captain had so much fun crushing the ice during the first two ramming that we went for a third one.
The Second Crossing
Our fortune held out in that we did not sink, but we were not going to get a nice calm crossing and for the second time we got pummeled. Though the winds were not as strong nor the seas as rough as the first crossing we were getting beat up by 30 ft waves which were coming at us headon. At one point during the crossing we hit a wave so big that it stopped the ship and this wave broke over the 5th deck just at the same time a few of us were standing outside on the backside of the 5th deck in a protective viewing area. And for the second time during this trip I felt the icy of the arctic waters when this wave drenched us. When we walked back in we were greeted by a standing ovation from the few remaining passengers that were not sick in their beds – including my two roommates. Once we arrived safely back in Ushuaia and he was able to move off his bed, my roommate from Hong Kong was quoted as saying, "I spent all this damn money for this trip only to spend five days eating crackers and drinking water."
What a trip – I saw penguins (though I did not get to eat one), birds, whales, and seals. I met some truly fascinating people and made new friends. I sailed the Drake. I experienced many awesome adventures and set foot on my seventh continent. This trip was the capstone of all my adventures and though I am truly blessed, my one regret is that those close to me were not with me to ride this wave. Literally.
"I now belong to a higher cult of mortals for I have seen the Albatross." Robert Murphy
All the best and Godspeed.
Cheers,
Don