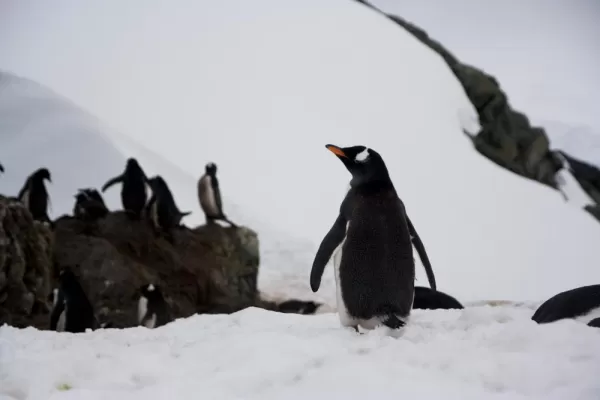 Fact: there are 17 species of penguins in the world but, despite the common belief that all live in Antarctica, only six species permanently reside in Antarctic waters. Of those 6, only two can be classified as true Antarcticans. The large, colorful Emperor and small, playful Adelie live and breed on the continent itself. Three other species - Chinstrap, Macaroni and Gentoo - live exclusively along the peninsula while King penguins live in the northern Sub-Antarctic islands.
Penguin sightings in Antarctica are pretty much guaranteed and, in most cases, come in the form of Gentoo. My own experience also brought several stray Adelie and a lone Chinstrap who, try as he might, didn't quite blend into a crowd of Gentoo.
Penguins were one of my favorite parts about my trip. When I wasn't out kayaking, mountaineering, snowshoeing or hiking around, I would sit in the snow and watch them go about their lives. Extremely social as evident by their near constant squawking, penguins live in groups called rookeries and even form their own highway systems. In November, penguins often have one thing on their minds: nest building. In order to build a nest, penguins resort to thievery. While certainly not sneaky, their antics are hilarious to watch.
Other penguin favorites: the penguin waddle, the penguin slide, and the elusive headless penguin (bonus points for spotting them together)!