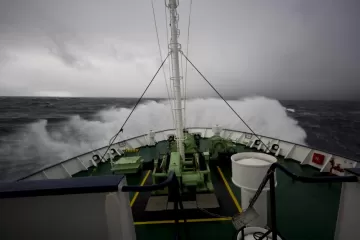 The ocean has always seemed a charismatic character in my mind - gentle some days and volatile the next. Ever since I was a little girl, I've been fascinated with the vast, open horizons and unfathomable depths. I admire the way the Earth curves in the distance and the smell of salt in the air. Whether I've been walking in the surf of the churning North Sea or snorkeling the waters off of Ecuador's Galapagos Islands, the ocean is by far my favorite of this world's many landscapes.
Despite this lifelong love affair, I admit that I was more nervous than excited about the prospect of crossing the Drake Passage. Notoriously known as the world's roughest waters, I boarded the Ortelius in Ushuaia with a lump in my throat. I was about to experience one of two phenomena – either the Drake Lake or the Drake Shake – and it was anyone's guess as to which side of Poseidon we were about to meet.
We quickly realized that we were in for a rough go when one of my fellow passengers asked our Expedition Leader what the conditions were like. Her stoic reply was "you don't want to know." We did want to know, however, and further prompting revealed that a superstorm was raging across the Drake.
I became one of many patch-wearing passengers as we sailed into the swirling dark clouds in the distance. Throughout the next few days, the ship encountered hurricane force winds – 91 mph – and 40 foot swells. Passengers who felt well enough to move around the ship spent a lot of time in the Bridge, where they were able to witness the power of the waves as they swallowed the bow of the ship and spit it back out time and time again.
When we finally reached Antarctic waters, the waves stilled. The passengers took a collective breath. The Drake was behind us – Antarctica was ours.