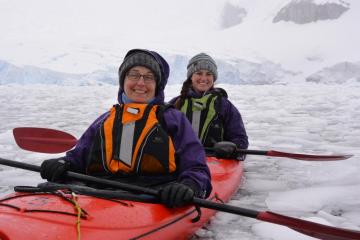 I pride myself on being a kayaker. Whether I'm paddling Montana's rivers, New Zealand's Queen Charlotte Sound, Hawaii's big island or Mexico's Baja Peninsula, I can't get enough of my favorite water sport. That being said, kayaking off the shores of Antarctica's icy peninsula was a definite must and one of the many reasons I wanted so badly to join a Basecamp itinerary.
At first, the idea of kayaking in the world's coldest and most remote location was a little daunting. People at home told me I was crazy for wanting to do it and I often couldn't help but agree, but it wasn't an opportunity I was about to pass up.
Ready and eager before our first outing, I donned my water resistant gear and zipped my camera into my jacket. After boarding our zodiac, we cruised away from the ship with kayaks in tow and it wasn't long before our group of 16 had Antarctica to ourselves. The first thing I noticed after obtaining my paddle and pushing away from the zodiac was how peaceful it was. Sitting so low to the water and so far away from the hustle and bustle of the ship, one could truly admire the majesty of the great white continent.
The group followed our kayaking guide into an ice field and we wove our way through the icebergs which had gathered there. A nearby glacier rumbled and calved. Penguins skimmed the surface and then disappeared into the depths of the sea. My heart pounded with exhilaration as I dipped my paddle into the water again and again.
Words can't describe it but heed my advice - if you go to Antarctica, kayak. You won't be able to describe it either.