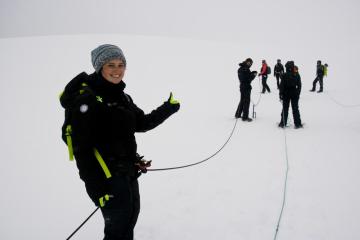 Despite living in a state named after mountains, mountaineering was an activity I had never tried. Even though I found stories about mountaineering expeditions to be fascinating, reading about them never inspired me to strap on a pair of crampons myself.
Basecamp Ortelius changed that.
Presented with the opportunity, I nervously checked the box on my forms and indicated 'yes, I would like to participate in this activity.' More than anything, mountaineering in Antarctica was by far the thing I was most unsure about. One of my three cabin-mates took part in the journey's first mountaineering excursion and came back with the news I feared - mountaineering was hard – and I debated telling the guides that I just wasn't up to the challenge.
Regardless, I strapped on a pair of crampons and hooked myself into the mountaineering line the following morning.
Once we began our ascent, I was surprised to find that my fears were for naught – mountaineering
was
hard, but it's wasn't anything I couldn't handle. My team of five worked together, pick-axes in hand, as we climbed to the top of a peak I can no longer remember the name of. While our views were completely obstructed by fog, our spirits remained high as we snapped a few celebratory photos at the top.
Summiting a peak in Antarctica? Been there, done that. No big deal.
Except it is. It's a really, really big deal, and I'm so proud to say I've done it.