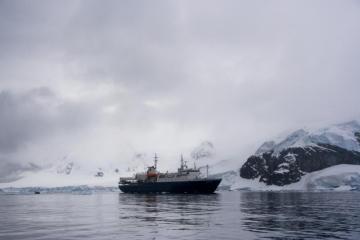 One of many variables from which to choose when booking a trip to Antarctica is the ship which will take you there. For some people, the ship is one of the most important parts of the trip. Though they vary in size, in luxury level and passenger numbers, they all share one very important detail: they're all well-suited for the Polar Regions.
The
M/V Ortelius
was built in Gydnia, Poland in 1989 and began her life as the
Marina Svetaeva
under the Russian flag. In 2011, she was re-fitted, re-flagged and re-named Ortelius after the Dutch cartographer Abraham Ortelius. Ortelius published the first modern world atlas, the Theatrum Orbis Terrarum (Theatre of the World) in 1570.
As far as ships go, the
M/V Ortelius
cruises on the more basic end of the spectrum. At just under 300 feet long, she is one of the smaller ships to sail to Antarctica but is ranked in the highest ice class. Comfortable rather than luxurious, the
Ortelius
offers a more family-style journey to Antarctica. The dining room is cozy and features window views and mouthwatering meals. The bar is often occupied and lively - offering board games, an espresso bar, a selection of constantly stocked cookies and , of course, a wide selection of beverages. The bar also serves as one of the locations for the numerous lectures and entertainment on board.
Despite her basic nature, I was not left wanting anything the
Ortelius
could not provide and it was a feeling I got from all passengers on board. We booked the Ortelius seeking adventure rather than comfort, and adventure was delivered in spades.