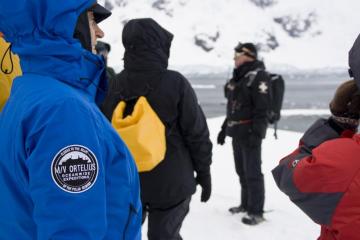 When it came to packing, my biggest struggle wasn't
what
to bring to Antarctica, it was how to make it all fit. It's one thing to preach the age old mantra "take half as much clothing and twice as much money." It's another thing entirely to follow said mantra.
By nature, I tend to over-pack. In my opinion, it's better to have a surplus of clothing than not enough. This mindset was especially true when I was packing for the Polar Regions. On one hand, I knew that I could wear the same layers over and over again and it wouldn't be a problem. On the other hand, I wasn't about to get wet during one excursion and have nothing dry to wear the next.
So, I started reading. I read the packing list provided by Adventure Life. I read the packing list provided by the ship company. I searched the internet and found packing lists from travelers who had been with other companies. And then, after comparing and contrasting all of those lists, I made my own.
Layers are key. I separated my list into three layer categories: Under layers, regular layers, and outer layers.
Under layers. This layer is the most important. Antarctica is cold. You will get cold if not properly insulated. I brought two pairs of long underwear (one pair lined with fleece for super cold days and one regular cotton pair for the others) and 8+ pairs of heavy, woolen socks.
Regular layers. This is the layer that I tend to over-pack. These layers serve me in two ways – clothes to wear around the ship and clothes to wear for added warmth outside. I limited myself to one sweatshirt, one down vest, 8 long sleeve shirts, two light jackets, one pair of lightweight pants and one pair of safari-style pants.
Outer layers. I cannot stress enough the importance of waterproof items. I brought one pair of waterproof pants (absolutely essential), two pairs of waterproof mittens, one pair of liners for said mittens, two hats, a balaclava (preferably one that adjusts depending on how much coverage you need) and the crown jewel – a heavy waterproof jacket.
Everything else is mere convenience. If it fits in your bag and you're still under the weight restriction, great! If not, you probably don't need it.