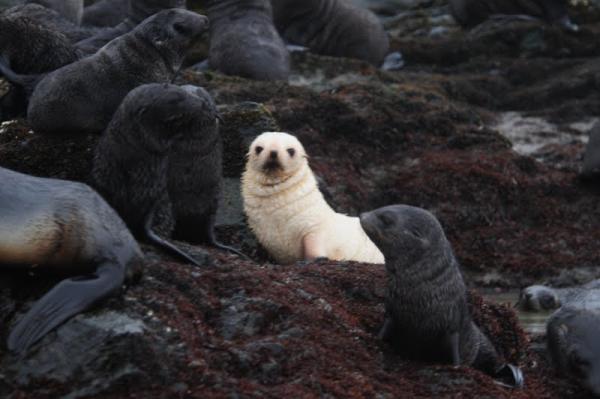 Our land exploration of Antarctica began at Paulet Island, at the northeast tip of the Antarctic Peninsula and the northwest limit of Erebus and Terror Gulf. There we wandered in the midst of colonies of Adele Penguins and Antarctic Shags (cormorants). We also visited the gravesite of Ole Christian Wennersgard, who died in 1902 during the Swedish Antarctic Expedition. From there the ship headed a short distance south to Brown Bluff, on the Antarctic continent proper. The highlights there were Southern - yes, finally, Southern - Giant Petrels, crabeater seals, and a Snow Petrel chick, still in its nest inside a cave. In addition, there was lots of activity in the Gentoo Penguin colony. Chicks, by now as large as or larger than their parents, were begging to be fed one more time. Some parents cooperated but others tried their best to chase the chicks into the ocean. It is essential that the chicks become independent at about this time as the parents begin to molt, and while molting cannot feed the chicks, so if the chicks remain dependent on the parents they will be unable to survive. The scenes were comical to observe - parents chasing chicks, chicks chasing parents - but for the penguins themselves they were a matter of survival.
We then crossed over to the west side of the Antarctic Peninsula and spent several hours at a colony of Chinstrap Penguins. One individual, in particular, attracted my attention. He - as the males build the ''nests'' it was almost certainly a male - seemed confused about the fact that breeding season was long since over. Chinstraps build nests of pebbles or small rocks, and they, like other penguins, are not above stealing rocks from their neighbors. This individual was busy ''stealing'' rocks to build his own nest, but it was obviously to no purpose and the neighboring penguins didn't even seem to care. Perhaps he was an adolescent, just practicing skills he would need in the future. But perhaps he was just confused.
We had one final land expedition on Antarctica, at Goudier Island. The island is the home of Port Lockroy, an historic site that was a British base during World War II. We had the opportunity to have our passports stamped there, and a final opportunity to spend time with Gentoo Penguins. To my knowledge nobody on the trip brought a penguin home, though many of us were tempted.