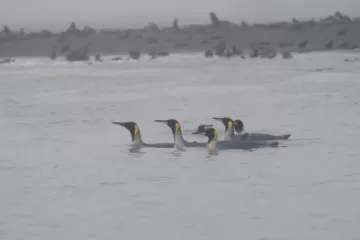 Our experience in the Antarctic was not limited to our four landings. We observed numerous humpback whales from the ship, and on our final zodiac cruise we saw several from water level. The passengers taking videos of the whales laughed each time a humpback dived, as the sound that accompanied the whale's tail being in the air was that of all the still cameras taking multiple shots
In addition we had the opportunity to observe a number of seals. A leopard seal, one of the apex predators of the Antarctic, made several approaches to our zodiac, and returned each time to an ice flow. Its movements on the ice were serpentine - I was reminded of anacondas or pythons - and its swimming seemed effortless. It dropped off the ice into the water in total silence, and until it surfaced next to the zodiac we had no idea where it was. On the same zodiac trip we spent time observing several weddell seals, one of which was particularly photogenic.
We reached as far as 65 deg 11' south, just short of the Antarctic Circle. And then it was time to return to Ushuaia, which meant crossing the fearsome Drake Channel. For us, however, it was like crossing Drake Lake, which was only fair given how the weather had beaten us up on the trip south from South Georgia. In the end I had seen seven penguin species, five species of seals, four albatross species, plus whales, dolphins, and numerous other birds. And absolutely unforgettable scenery. I'd return in an instant, but not in February, not because February wasn't great - it was - but simply because it would be a treat to see the critters at an earlier stage of the breeding season.