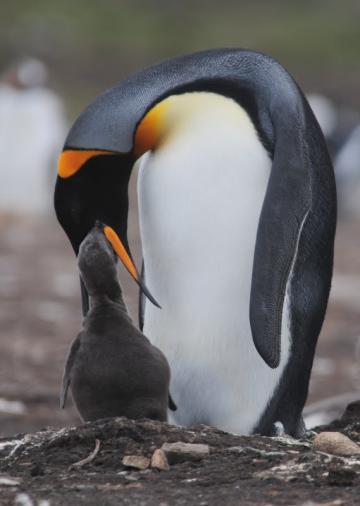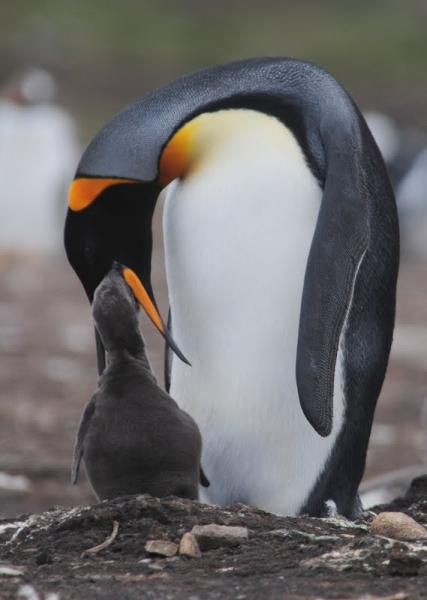 During the following two days we did five landings at South Georgia. The wildlife was incredible. There were King Penguins, Gentoo Penguins and Macaroni Penguins. I used to think of penguins as being black and white, and certainly those are the predominant colors. But King Penguins have extensive yellow markings, Gentoos have red/orange bills and feet, and Macaronis - well, they have orange bills, a pink gape, red eyes, yellow ''eyebrows'' and pink feet. There were, in addition to the expected southern fur seals that were seemingly everywhere, southern elephant seals, with some of the males sparring with each other (breeding season was over) while females lazed about. We saw Wandering Albatross nesting, and Northern Giant Petrels on land. And Yellow-billed Pintails, Brown Skuas, Antarctic Terns and Snowy Sheathbills. And more.
One landing was at Grytviken, a former whaling station that is now a small British settlement and research station, with a museum and book store. It is where Shackleton reached help and arranged to rescue his crew still at Elephant Island or on the other side of South Georgia. It is where he and his ''right hand man,'' Frank Wild, are buried in a cemetery that is ''guarded'' by a cohort of elephant seals. Apparently the tradition is for visitors to Shackleton's grave to take a sip of rum and pour the balance of the drink onto the grave. At least that's what we were told, and did.
That night, while still at anchor at Grytviken, the British contingent visited our ship, where we had a barbecue on deck and a night of dancing and partying. The following morning we had a final landing on South Georgia, at Gold Harbor - home to a large colony of King Penguins and lesser numbers of Gentoo Penguins (as well as other critters that were now becoming familiar to us), and then reboarded the ship to begin the journey southwest to the Antarctic Peninsula. But there was one more site to be visited in South Georgia before we hit the open ocean, Drygalski Fjord.
Drygalski Fjord is, as one might expect, reasonably narrow. It has numerous glaciers that come right down to the ocean. And when we were there it had wind, lots and lots of wind. About 70 knots of wind. The surface of the ocean was quite flat, but that's because the fjord is narrow; even with minimal waves there was a good deal of spray. We passed one glacier the meltwater from which formed a small waterfall, except that the wind blew the water up, where it seemed to evaporate, so that none of the meltwater reached the ocean. On the ship itself those of us who were foolhardy enough to be on deck - where it was difficult to stay upright - noticed that the benches from which we could observe the ocean on calmer days were blown 90 degrees up from their usual position, and were still on the ship only because they were tied to it.