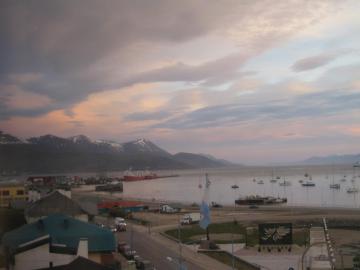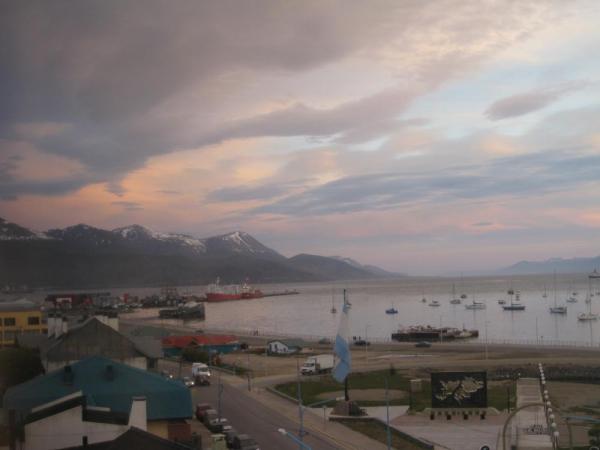 South Shetland Islands, Antarctica
Like crazy horns, the colony of penguins could be heard even from the Antarctic Dream. I didn't know they made such a sound. Squinting hard, I looked toward the exposed cliffs pushing through the snow. Small moving dots confirmed the fact that the colony was indeed there. The icy wind bitterly blowing, more layers were a must before heading to Half Moon Island...the first landing in Antarctica. Was I really here??? The coldness on my cheeks mixed with the sounds of penguins made reality shout "YES!" and then off to the right it hit my core as I looked at a glowing piece of ice. Blue ice they call it, formed from thousands of years of compaction. Never before had my eyes seen such a thing. Glowing softly...a radiant blue, this truly was Antarctica.
Layers on layers, I prepared for the cold. Soon I'd be out there with the playful penguins...here at the bottom of the world!!! I pulled my second jacket over the first, twisting my arm down the sleeve until my hand popped out of the cuff. Thick hat, two pairs of gloves, waterproof pants and rubber boots, I waited in line to board the zodiac. Being surrounded by land, the boat had ceased to rock and everyone was up and moving. No more sea sickness. Excitement filled the air and smiles came easily to people's faces. All were about to experience a dream of a life time. Stepping into the sanitation bucket (to kill any microorganism on the boots...a standard procedure for Antarctica), I thought how the name of this boat fit so perfectly. Antarctic Dream. Written on the back of the red coat in front of me, I knew for me...this was true. It was a dream to be here and as I made my way down the metal stairs into the small rubber zodiac, I knew my dream was about to become a reality.
Before I knew it, the small zodiac was on shore. A few quick movements and then I was standing on land!
Glossy, black stones under my feet
Snow scattered with dark red in front of me
Cliffs beyond
Forgetting about the cold, I looked left. Next to an antique rowboat, a penguin hopped out of the ocean and then a second appeared from under the froth of the wave. Just 15 feet away, I stood and stared.
Hearing the movement of rocks behind me, I turned as Jamie, one of the expert naturalists, approached. I could see his eyes smiling and even though he was loaded down in layers as I, his step had a lightness to it. "How are you gals doing?'' asked his cheerful voice. I answered and then asked him the same. His answer was already displayed through his gestures. "I'm home" he sighed with arms open wide. Simple yet filled with so much passion.
How could Antarctica be home? Cold, so far from civilization... Looking around, I began to see what he meant. This place was special, and the girl next to me stated as much. His response left a delightful suspense. "Oh and this is just the beginning". Smiling, Jamie pointed to the tour guide for the island and as I walked away I knew I was stepping not only onto a new continent, but also into a world of inconceivable adventures.