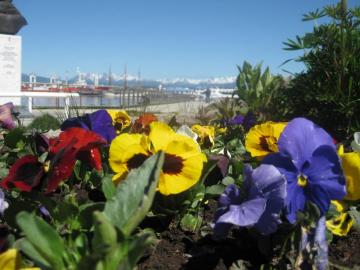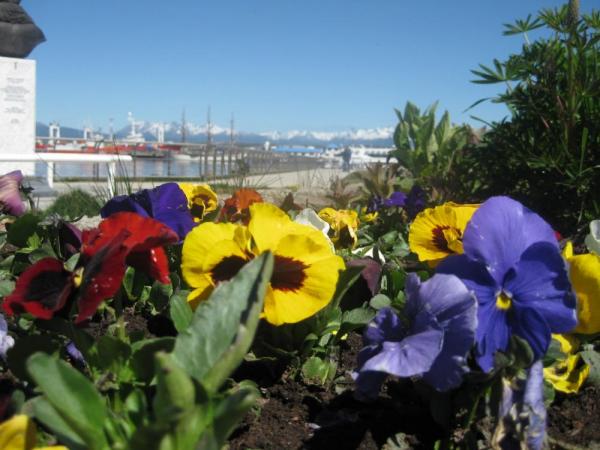 There's a steady, soft rumbling noise coming from below, singing a lullaby of sorts as the boat faintly moves back and forth. The twilight sky has a star or two shouting out its presence. The warm air from this afternoon has gone to sleep and a jacket is a must as I look out into universe. I wonder how many hours will truly be dark in Antarctica. Time moves differently down here. The sun takes it's time looking down on Ushuaia this time of year. Pleasantly warm from it's radiance, its easy to lose track of time without a watch. But Ushuaia is already behind us and the mountains are dim in the distance, just barely visible in the dusk. Dividing and pushing the water aside, the Antarctic Dream (our boat) moves south. I love watching the white crests of the small waves. It's hard to take it all in. Attempting a photo, I realize watching with my eyes and imprinting it in my mind is the closest way to truly capture this moment.
The captain said just a few more hours before the Drake Passageway...the channel in which even strong stomach sailors can get queasy or even dreadfully seasick. My room is on the bottom level of the Antarctic Dream. Looking out the small circular window, water appears just a few feet away. What will occur in just a few hours?!? I've never been on a boat in open sea. Actually, I've never been on a ship at all unless you count a canoe on the river or a speed boat in a lake. Yet here we are about to go through the "D r e a d e d" Drake Passage. Will it really be that bad? I'm N e R v O u s! What was I thinking making this my first experience out to sea!
Several guests are wearing anti nausea patches behind their ears and others have bracelets of sorts on their wrists (and they aren't a new fashion statement). A few have declared they are taking nothing. That's crazy! The captain states once you are sick...it's too late. The medication won't help.
Will most get sick? Will I? Will the waves knock on the window above my bed? Will the gentle, soothing rocking turn into a violent shake? Will it feel like the boat is going to turn sideways?!? What does it feel like to truly be out on the open sea?!?
This is an adventure. They say sailing through the passage is worth it. Guess I'm about to find out. I'm taking a pill and going to bed.